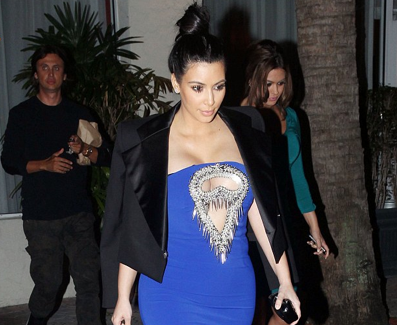 Recently rumors hit the internet that Kris Humphries, the husband of Kim Kardashian was allegedly claiming that Kim offered him a cool $7 million to speed up the divorce process between the two. But now according to TMZ, Kim wants Kris to pay for her legal fees because she feels that he is the one holding up the entire process.
TMZ reports that Kim never offered Kris money in return for him finalizing the divorce, but that instead she is now asking him to pay for her legal fees. Sources close to Kim K claim that "Kim feels Kris has needlessly dragged this on for so long and it cost her so much $$$ in legal fees and other expenses … she wants the NBA star to cover those costs".
Sources also claim that Kim's legal fees have stacked up to about $250,000 and that Kris' fees are in the same ballpark. TMZ's sources also claims that Kim is more than happy to go in front of judge because "she's convinced she'll win the divorce and he'll walk away owing her".
Follow us on Twitter: @HipHopEnquirer
Comments
comments
Category: Latest Hip Hop News, Media Gallery, Talk of the Town