Lil Wayne Disses The NBA, Calls Himself New Tupac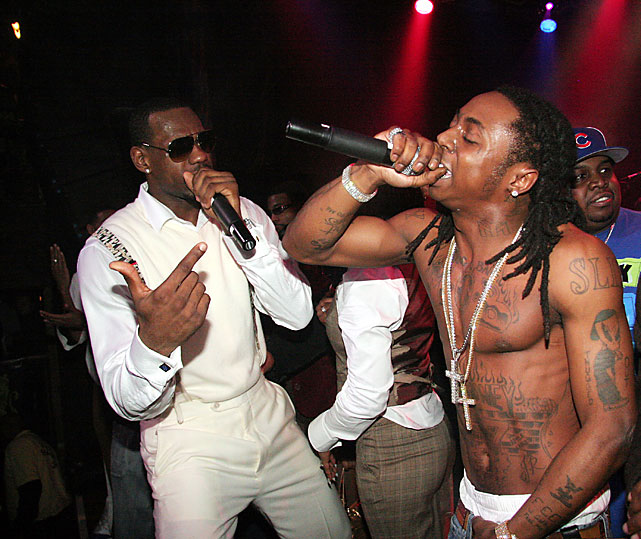 Lil Wayne has some issues with the NBA and The Miami Heat and had a few things to get off his chest last night in Houston at a birthday celebration for his pops, The Birdman.
Lil Wayne addressed the audience and dropped a few F-bombs to The Miami Heat as well as their star players LeBron James and Dwyane Wade and revealed that he smashed Chris Bosh's wife.
Obviously Lil Wayne is still pissed after being escorted from a Miami Heat game last week for allegedly rooting for The Lakers.
Wayne stated yesterday,
"Y'all love these ni##a$ so I'm gone let y'all know why is because The Miami Heat told them to ban me…So I say f*ck it, I'm still going to come out here and party with my pops. When I say F%ck you, y'all say 'NBA'. When I say 'F#ck, y'all say the Miami Heat…

You let them ni**as know I'm from the streets so I ain't going on no Twitter beef or online beef. We can take it to the f*c%ing streets n*%ga. F*@k all these n*+gas. F%*ck LeBron, F%ck D-Wade, f*ck all them n*ggas man. And I f*%ked Chris Bosh's wife."
Wow!!! talk about disrespectful. He however remained mum about disrespecting Emmett Till.
Before exiting the stage he also declared,
"I ain't Tupac. I'm the new Pac. Holla at ya boy."
Peep the footage below and let us know if Weezy was out of line or is back on those drugs again
Comments
comments
Category: Latest Hip Hop News, Media Gallery, Videos