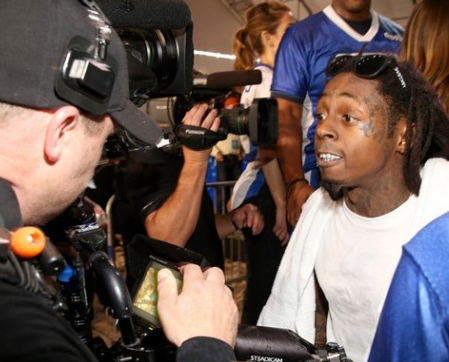 It looks like Lil Wayne actually had a couple "worries" this past  Super Bowl Weekend. According to reports over at Miss Info, the New Orleans native attended Direct TV's 7th Annual Celebrity Beach Bowl at the DTV SuperFan Stadium in New Orleans.
After Lil Wayne's team lost to Snoop Dogg's team  in a flag football game at the DTV event, reports claim that Lil Wayne got into a physical altercation with a camera man. Here's what he had to say about the altercation:
Because one of these camera dudes just pushed me just now. And I don't like to be touched by people I don't tell to touch me. So I'm a get out of the building because if I touch somebody I'll go to jail because they're not the color of me, they not the same color I am so you know how that go. But to them, 'Fu** You.
Check out footage and pics below of the incident.
Follow us on Twitter: @HipHopEnquirer 
Comments
comments
Category: Latest Hip Hop News, Media Gallery, Talk of the Town