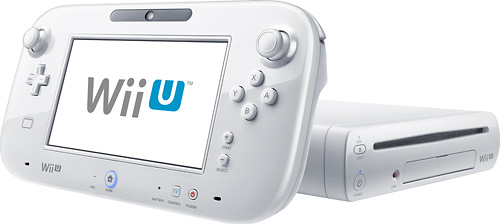 As the highly anticipated November 18, 2012 Nintendo Wii U release date approaches, the laws of supply and demand appear to be showing up both in-store and online retailers.
Most online and in-store pre-order options are closed up and not in-stock, leaving one with dwindling options to secure the latest offering from the Nintendo.  Folks can camp out at release day stores in hopes of grabbing one from the first batch, or simply buying from opportunistic 3rd party sellers on eBay and the like, but tyring to pre-order right now is almost impossible.
With the Wii U launch, Nintendo is offering 2 models with unique options and pricing. The Wii U price for the 8GB Basic Set is $299.99 and includes the white 8GB console, GamePad (white), two AC adaptors, sensor bar and an HDMI cable.  The price for the 32GB Deluxe Set is $349.99 and includes the black 32GB console, GamePad (black), two AC adaptors, sensor bar a sensor bar, an HDMI cable, GamePad cradle, GamePad stand and console stand.
The Wii U is an upcoming video game console from Nintendo as the successor to the Wii. The system was unveiled during Nintendo's press conference at the Electronic Entertainment Expo 2011 on June 7, 2011, and is scheduled for release on November 18, 2012 in North America, November 30, 2012 in Europe and Australia, and December 8, 2012 in Japan. It will be the first entry in the eighth generation of video game home consoles.
Nintendo has stated that the Wii U supports 1080p graphics and has 2 GB of memory; 1 GB as system memory and the same for game memory. This is more than 20 times the memory of the Wii. The console will be released in two versions; a basic white version with 8 GB of internal storage, and a premium black version with 32 GB of internal storage, which includes stand and docks. An HDMI cable will be included with both versions. The Wii U features a new controller, called the Wii U GamePad, with an embedded touchscreen. The controller allows a player to continue playing games by displaying the game even when the television is off. At the E3 2012 expo, a second controller, called the Pro Controller, was unveiled, which is a more traditional gamepad. It features two analog sticks.
The system will be backward compatible with Wii, and Wii U games can support compatibility with Wii peripherals, such as the Wii Remote Plus and the Nunchuk. It will not be backward compatible with Nintendo GameCube discs or peripherals, although games will become available for purchase and downloaded from Nintendo's Virtual Console service.
[kkytv id="R5NcFSIZDEs"]
Hip Hop Enquirer Magazine|Follow us on twitter@hiphopenquirer
Comments
comments
Category: Latest Hip Hop News, Media Gallery, Technology