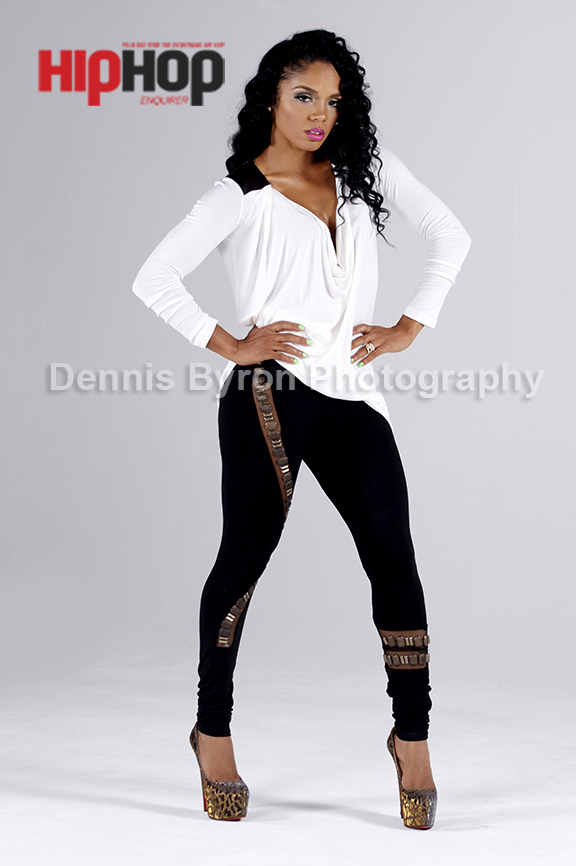 The season finale of "Love & Hip Hop Atlanta" was all about independence and "tying up lose ends." How many reality TV couples actually make it? Unfortunately, not many—in "Love & Hip Hop Atlanta's" case just Rasheeda and Kirk. This past Sunday, the Georgia Peach of Hip Hop had an exclusive photo shoot with veteran photographer Dennis Byron for clothing designer Latoiamichelle for their fall campaign. Check out some of the photos below.
For the umpteenth time now we are reminded that Lil' Scrappy and Erica Dixon's relationship has failed however, recently Erica Dixon of "Love & Hip Hop Atlanta" has been seen out sporting what appears to be an engagement ring. The rock would confirm rumors that Scrappy proposed to her during the taping of the "Love & Hip Hop Atlanta" reunion. Regardless of the rumors, in the season finale Erica Dixon is seen settling into her new house and they both agree that they're better off being friends and co-parents for their child. All their drama just gives me a headache.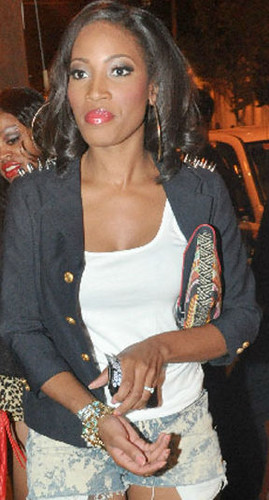 Karlie Redd is still indecisive about her relationship with Benzino and talking about her own career. What do you really want Karlie Redd? Ms. Redd meets up with Atlanta rapper Roscoe Dash for "business" but instead they have drinks and flirt. I'd argue that the "inspiration" they were talking about has nothing to do with music. Will Roscoe Dash provide Karlie Redd with that needed stamina Benzino may be lacking? Or will Benzino prove to be that bedroom chef that was evident on a previous episode of the show?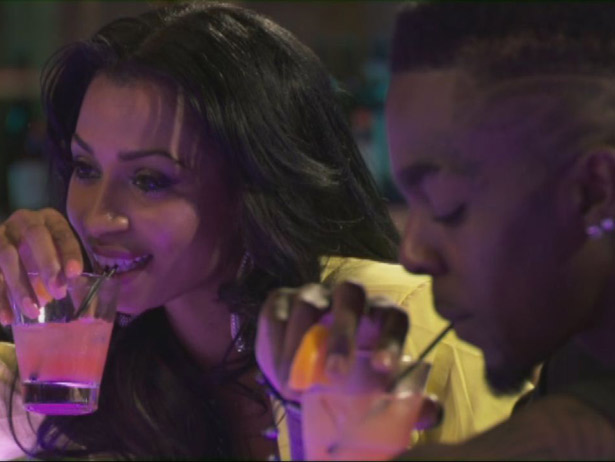 Since the last "WWF" therapy session, Mimi and Joseline decide to visit Dr. Jeff again. "In the last therapy session I didn't even get a chance to hear what Joseline had to say," says Mimi, "She was too busy punching Stevie upside his head. I wanted to hear what the bitch had to say. That's why I went back." Stevie J shows up to the session in an "I am God" t-shirt and an arrogant attitude claiming, "They can take control of their own lives. It's still my bus, it's still my air. I'm running this s—," said Stevie J.
Joseline understands that Stevie J is going to do what he wants and that he will never change confessing to Mimi, "Girl, he had sex with my best friend in my own bed." While Joseline may not mind the amount of girls in his life, Mimi Faust has definitely had enough. Joseline just wants Stevie to advance her career and doesn't care about his extracurricular activities. "I thought I was in love with you," Joseline explains, "Whenever I do get me a man it's going to be my man and only my man, and if you're not happy for me then that's cool."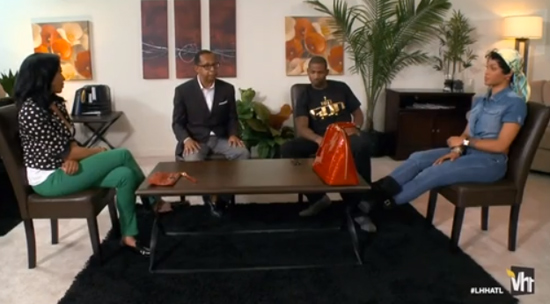 Scrappy realizes he can't play with Shay or Erica's feelings. After inviting Shay to the studio he lets Shay know that he thought he wanted to get back with Erica and has love for the both of them. "You playing with me just like this b—h was playing with you," says Shay, "You f—ed up. You f—ed up real bad right now."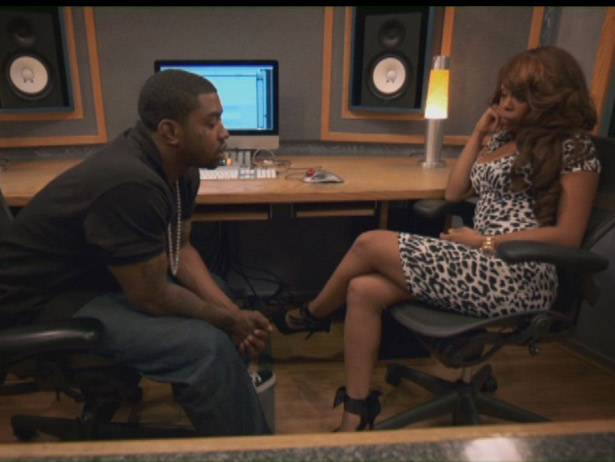 Rasheeda and K. Michelle meet up to smooth out their last conversation that didn't go to well. Rasheeda confesses that it was "insensitive" for her to imply that K. Michelle was lying about being abused however; Rasheeda obviously isn't convinced that her friends (K. Michelle's ex and his wife Toya Wright) had anything to do with K. Michelle's abusive history. Besides the fact that so many people discredit her situation, "They keep on f—- with me, it's gonna be everywhere. I'm let that s— loose, but I've been trying to be the bigger person about it" says K. Michelle.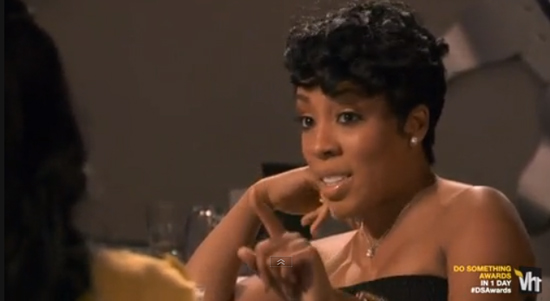 Benzino presents Karlie Redd with a ring but doesn't give it to her. He thinks she's the one but after she expresses her doubts he is quickly discouraged. "Why would you come and bring me a ring, and then you don't even give it to me? Who does that?" Karlie is upset! "You f—ed up," he said. Apparently the ring was for break-up purposes only.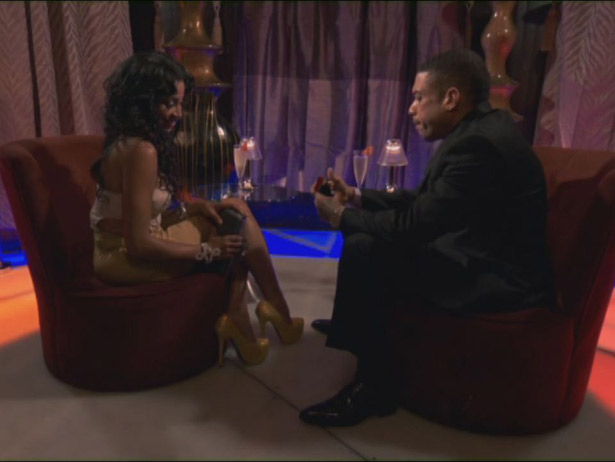 Stevie J pops up on Mimi at work attempting to apologize for his wrongdoing however he ends saying all the wrong s—t! "This is a lot of my doing because I have allowed this to continue and happen repeatedly," Mimi said. "I don't want to be in a relationship with you anymore. I'm done." Stevie quickly flips the script and goes off arrogantly, "I gave you the best thing you ever had. You better be grateful," said Stevie. "I gave you a kid when everybody else tossed you to the wayside," said Stevie. Mimi put him out after he just unashamedly disrespected her.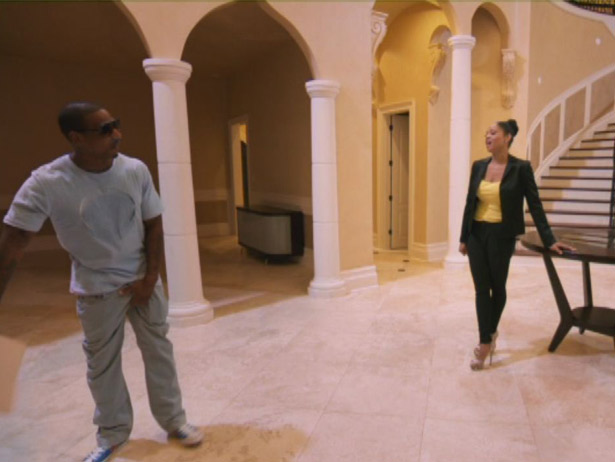 On a more positive note, Rasheeda and Kirk renewed their vows. After 12 years of marriage and the drama associated with doubling up as husband and wife AND manager and artist, it's awesome to see two people who respect and love each other genuinely. "To 12 mo' years, and 12 mo' and 12 mo'," Rasheeda said.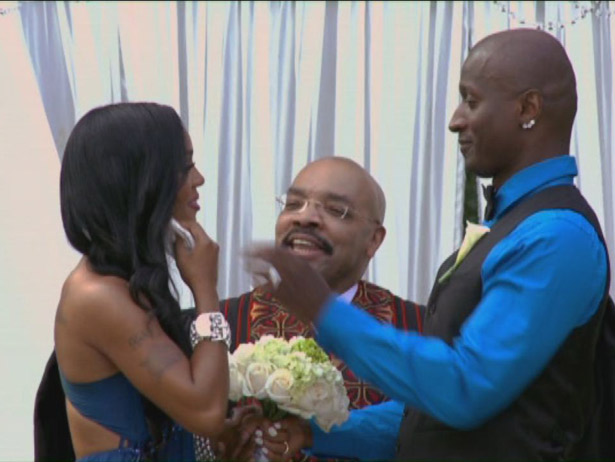 Part 1 of the reunion airs Monday, August 27 at 9PM ET/PT for all the unfinished business between Benzino and Karlie, K. Michelle, Erica Dixon and Scrappy, and the Joseline, Mimi and Stevie J love triangle.
Comments
comments
Category: Latest Hip Hop News, Lifestyle, Media Gallery, Talk of the Town