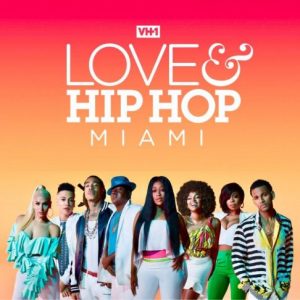 The newest edition of the Love and Hip Hop family, Love & Hip Hop Miami premiered New Year's Day and the first episode is already causing a media frenzy.
Season 1 of LHHMIA introduced us to some new faces as well as some very familiar faces in hip-hop. The 24 member cast is one of the largest cast groups the franchise has seen. A few of the cast members made their first appearances in the first episode they included; Trick Daddy, Trina, Amara La Negra, Shay Johnson, Pleasure P, Gunplay, Bobby Lytes, Veronica Vega, Christopher "Prince" Michael Harty, Jojo Zarur,  and Young Hollywood.
 Episode one of LHHM had us all excited to see the Queen of Miami Hip Hop Trina and hip-hop legend Trick Daddy. We are interested in seeing what their life is like and how LHHM will add to their already successful musical careers. Not to mention all the family drama that seems to be brewing with a fellow cast member, openly gay, rap artist and first cousin of Trina Bobby Lytes. And the relationship drama between Trick Daddy and his wife who is also the cousin of Trina.
Episode 1 also reintroduced us to Pleasure P of the R&B group Pretty Ricky and his new love interest Shay Johnson who we all know from Flava of love and the ex-flame of LHHATL Lil' Scrappy. The two lovers are growing through the grooves of building a deeper relationship while Pleasure P tries and resurrect his former musical group, Pretty Ricky.
And we all finished the episode feeling a certain kind of way about Young Hollywood and his comments concerning natural hair. The famed producer who Afro-Latina music artist  Amara La Negra was looking to work with for her next American music project. The newly signed artist who just signed a multi-album record deal with Fast Life Entertainment Worldwide and BMG, was insulted by Young Hollywood's distasteful comments concerning her hair.  "We need to change the way you look," the tatted out music pro tells La Negra. "You need to think a little more Beyonce and a little less Macy Grey. You need to lose the afro."
"Does that mean that you don't think a woman can be sexy with an afro? In case you didn't know I am also part black," she railed back. "I wanted a producer I could work with and do business with."
La Negra is getting support for her style choices on social media, with many viewers calling YH a "racist" and ignorant about his own Latin background.
It looks like Mona Scott has another successful franchise on her hands. We haven't even seen the entire cast and there is already enough drama to carry us through 2018. We look forward to watching the storylines of each cast member unfold and we hope they can keep the drink throwing and hair snatching to a minimum and just get to the music. Check out a sneak peak of whats to come in episode 2 of LHHM.
Comments
comments
Category: Archives, Feature, Latest Hip Hop News, Reviews, Special, Talk of the Town