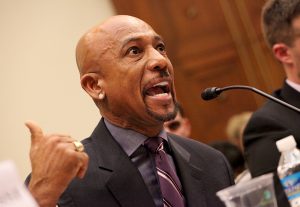 The list of unhappy Americans mad at President Donald Trump continues to grow. TMZ reported that Montel Williams thinks President Trump and Gen. John Kelly need to apologize for offending the widow of Sgt. La David Johnson, because that's what REAL men would do.
TMZ caught up with Montel at LAX Tuesday, he said the Prez and his Chief of Staff need to put their egos aside and show some respect for Myeshia Johnson's feelings.
According to Montel, even if Trump and Kelly don't understand how they offended Mrs. Johnson, they still need to get back on the horn to make the situation right.
Montel, a veteran himself, was fired up as he insisted our leaders honor Sgt. Johnson's memory.
Comments
comments
Category: Latest Hip Hop News, Politics, Special, Talk of the Town