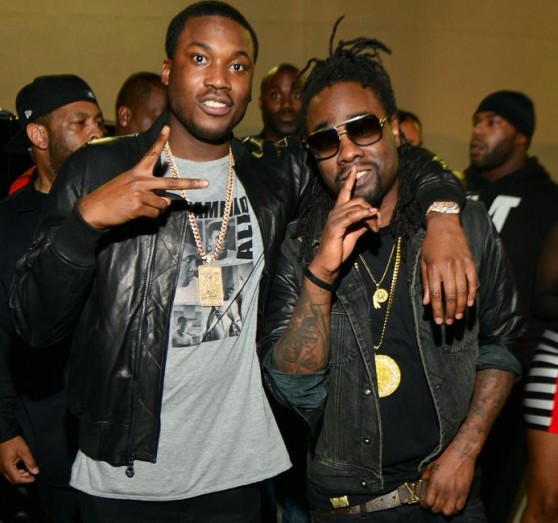 Meek Mill and Wale have an interesting relationship. Wale is never afraid to speak his mind and how he truly feels about a situation. Meek Mill tends to want a certain loyalty or expect his label mates to not speak his name in a negative light, which is commendable.
Wale's appearance on The Breakfast Club really set Meek off. Wale said that Meek, 'brought a pencil to a gun fight' referring to the Drake feud. Well Meek must have taken that as the last straw and went on a Instagram rant, saying Wale is no MMG and that he should commit suicide.
Niggas b doing all this to drop a new record gossiping about they hoe ass feelings and they personal life because they miserable and nobody don't rock wit them! Really stay away from me Fam! U not MMG NOMORE! This why u can't get my number you a hoe! and u dead cracked right now @wale foh nuttttt! I wasn't even mad at you Fam u got some real issues with yaself and you jealous! Broke rapper! This my last time I think addressing shit on the Internet …. But if I don't talk about it one of you dudes gone get hurt speaking my name like it's sweet! Y'all niggas gone stop mentioning my name like it ain't no consequences…. I'm off this internet! I don't speak on Mmg in interviews unless it's good! U a clown … We don't wanna hear you nomore Fam! Go jump off a roof like u been tryna do chump! He not MMG IM MAKING THAT CALL … He been tryna call me saying Rozay owe us money… He don't owe me shit and if he do I'll get it later …. Go that away!
Wale did respond on Twitter and does not seem to be phased by this attack.
Currently Lookin for a roof

— Young Olu the Genius (@Wale) October 21, 2015
Follow us on twitter@hiphopenquirer
Comments
comments
Category: Latest Hip Hop News