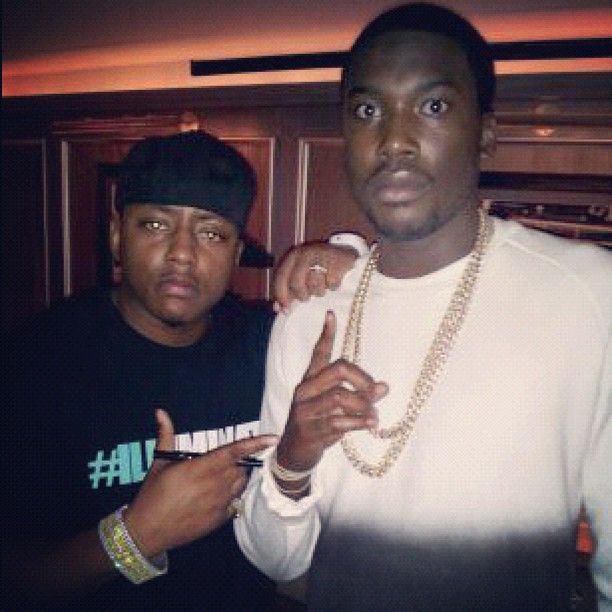 Philadelphia rappers Cassidy and Meek Mill are determined to  entertain the rap world with their neverending beef of twitter antics and such. Just recently, Cassidy dropped off an interesting track named "Me, Myself, and iPhone", and named it an actual "diss to Meek Mill".
In the song Cassidy played many different roles of contacts in his "iPhone" who were calling him questioning him about different industry rumors around his rap career. One of the voices Cassidy imitated, questioned him about the Meek Mill beef.
That ain't nothing new I raised son/I was around when that clown couldn't even get his braids done/Why he dropped that I'm a boss sh*t?/Cause his boss say he a (Boss) and he just on his boss d*ck/I usually don't get mad, but I had enough/When he dropped that song amen that was the last from us/He should praise his heavenly father the creator/But yo I gotta go I'mma holla at you later easy. ("Me, Myself & iPhone")
Now before he dropped this track, Cassidy released an endorsement-aimed track titled "Condom Style", and took a collection of comedic reviews from the Meek Mill fanbase with stride. The hip hop world was a little confused by the "sound" on this track. Indeed, it was a "different" side of the legendary Cassidy style, but a positive message nonetheless.
This past weekend there was another Twitter war between the two swift rhyming emcees. As soon as "Me, Myself and iPhone" was released, Meek Mill gave his review publicly via Twitter. Check out what he tweeted.
Cassidy didn't back down from the the Dreamchaser Label C.E.O's mentions though. Check out what Cass tweeted below: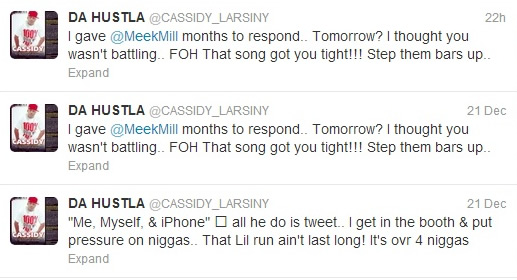 Take a listen to the "Me, Myself, and iPhone" track and let Hip Hop Enquirer know how you feel about it and this entire Philly rival beef.
Hip Hop Enquirer Magazine | Follow us @hiphopenquirer
Comments
comments
Category: Latest Hip Hop News, Media Gallery