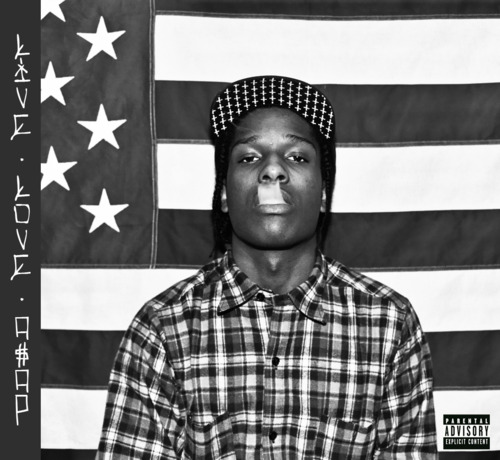 Beats A- Lyrics B- Flow B+ Orginality A- Overall B+
Harlem. The city  rings bells not only in black culture but it's also is a known talent hub for hip hop. These days Harlem's rap scene is in somewhat of a disarray.  Dipset is low key with the exception of Jim Jones and New York's regulars ( Jay-Z , Fabolous, Nas, Busta,) are present as expected. The newcomers from the big apple come and go. In ASAP Rocky's case, he's here to stay. The 23-year old Harlem resident set the internet on fire a few months back with his "Purple Swag" video which featured a hypnotizing hook and a white girl with a grill mouthing the N-word.  After this video was released the hip hop world was ready to dig a little more into ASAP Rocky's catalog. The first question that arose was where did  the name ASAP came from? Similar to Odd Future (whom ASAP was once in a beef with), ASAP is a group which Rocky is a member of.  With a buzz under his belt, Rocky got signed to RCA for a 3-million dollar deal then gained an invite from Drake to open for his upcoming club Paradise Tour. To say the least Rocky has been on somewhat of a roll.
[kkytv id="KuZ2QZKYj7c"]
 The only thing ASAP was missing was a collection of steady music in rotation. On November 3rd, he released "LiveLoveASAP", the first installment of the ASAP campaign. For starters, his style is refreshing and original which plays to his advantage on every track. The second video released "Peso" is a catchy rhythm that is not to be mistaken for a joke.  The opening line on this track  sets Rocky's rep for years to come as his trademark. "I be that pretty M*** F***!!!" His confidence and delivery are complimenting traits giving him that "IT" factor. The production throughout the mixtape is not a duplicate of anything released this year.  Despite the fact he is from New York, the Houston influence is evident in every song production wise and lyrically especially in songs like "Wassup".  The echoing claps and background vocals on this beat are soothing along with the chorus. His lyrical content weaves between creative topics like self motivation, social reality, and common ones like  sex, drugs, and money. "Trilla"  seperates the ASAP gang from other up and coming cliques in the game today, highlighting his knowledge for other regions of the game like the midwest. He borrows a Bone-Thug like flow off and on over a rocking chair type southern beat.
[kkytv id="ob3ktDxAjWI"]
 Tracks like "Leaf" are examples of why some may label ASAP's music as weird. When he was asked what type of music they make, Rocky replied "Trill Wave". It can't be denied.  Rocky's style, music and charisma will place him among the top of the new artist list  for 2012. LiveLoveASAP is already a trending topic as well as a critically acclaimed piece. With a record deal and one of the biggest tours on the planet on his agenda, hip hop can't help but live ASAP and love Rocky.

Download Mixtape Free | LiveMixtapes.com Mixtape Player
Follow us on Twitter: @HipHopEnqMag
Comments
comments
Category: Album Review, Music, New Music Alert, Reviews