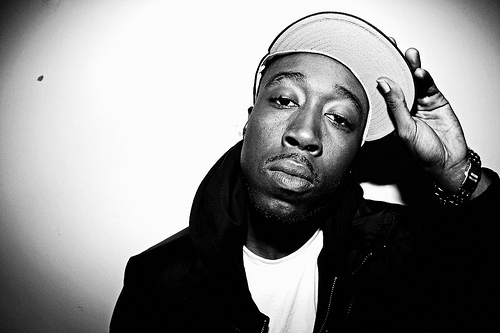 Lyrics B+ Beats B+ Flow A- Orginality B- Grade B+
If you are not hip to Freddie Gibbs, you should be ashamed. In hip hop these days, a conscious & believable gangster rapper is a rare commodity.  The Gary, Indiana rapper is not new to the game. A 2010 XXL Freshman phenom,  Gibb's lacked buzzworthy exposure but his music has gained the respect of labels and artist world wide.  As of lately he got the attention of  CTE CEO Young Jeezy. Jeezy threw Gibbs a bone by signing him with the CTE camp earlier this year. Since combining forces with Jeezy, Gibbs has been featured on all of the snowman's 2011 material. Gibbs has a niche of ripping beats apart with his Midwestern stamped flow. His latest work "Cold Day In Hell" , is arguably the best gangster output in 2011.  Simply due  to the combination of raw lyrics and a grade A flow, with big name production.
The introduction to the mixtape "Barley M.A.D.E." ( produced by The J.U.S.T.I.C.E. League) paints a Godfather like story of a day in Gibbs life. The flutes & Gibbs' signature flow mixed with vocals by B.J. The Chicago Kid puts Gibb's style  above majority of his competition. The following track produced by Big K.R.I.T. is gangster music at it's finest. "Rob me a N*****" is what fans want lyrically and sonically due to K.R.I.T.'s shoulder bouncing chords and violin. Alley Boy  shows why robbery is his specialty bringing in  the rear  while Gibbs speaks of a robbery so graphic when the song ends you will check your pockets. On "187 Proof"  he says "I speak a foregin language, I think yall call that the truth"  then he  highlights his flow ability in a comical way with "Flow stupid like I rode the bus to school with Waka Flocka". Gary, we have a problem.
The middle of the tape has features from Freeway, Jeezy, and Scrlla  all of which are worthy of multiple listens.Then comes  "Let em Burn" produced by Olympics,  sampling Usher's hit of the same name.  Gibbs shows his creativity and versatility killing this beat as well as matching the concept which is rare from gangster rappers throughout a mixtape. The mandatory  2 Chainz feature is spectacular on "Neighborhood H**" where Gibbs matches Tity, bar for bar and flow for flow.  This beat has a winter time vibe proving this release was carefully planned. Hats off to Gibbs and the crew. With Jeezy's TM 103 on the way,  fans expect to see more of Gibbs. Hopefully TM 103 drops before hell freezes over.

Download Mixtape Free | LiveMixtapes.com Mixtape Player
Follow us on Twitter: @HipHopEnqMag
Comments
comments
Category: Album Review, Reviews