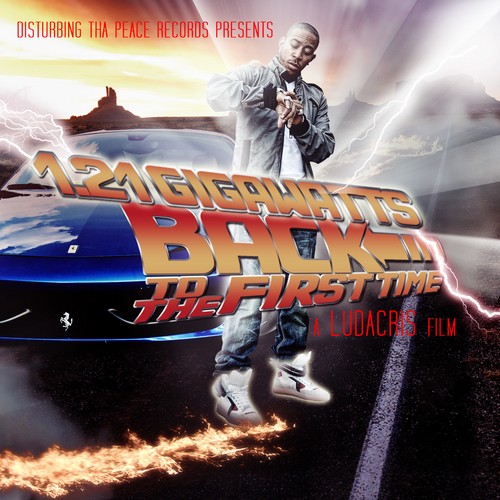 Lyrics B- Beats B+ Flow A- Orginality B+ Overall Grade B+
He's Back. The College Park, GA veteran has been hustling harder than most these days.  He starred in the blockbuster Fast Five which was one of the biggest movies this year as well as releasing his line of Soul Headphones. Ludacris  has always been the known as a businessman but he feels that some may have forgotten he was a legendary rapper. To remind everyone, he released his latest mixtape 1.21 Gigawatts: Back To The First Time.   The mixtape received plenty of buzz during its first week due to the controversy surround Luda, Big Sean and Drake.  About a year ago, Drake went on record giving his "pause and go" flow credits to Big Sean.  When discussing the pros and cons of using the flow Drake says "I hate that rappers picked that flow up. I wish they had left that for people that know how to use it. [They go like] 'It's a parade! MACY'S'. At that point, you never want to use it."  The Macy's  line was off of Luda's  "My Chick Bad". 
Responding to the madness, Luda held no emotions back. On the track "Bada Boom," Luda takes aim at rappers that fail to give him credit for his rhyming style, and for taking subliminal shots at his lyrics. "Flows will get recycled passed around to different names/ But what's the same, that every verse I spit is insane/ Got more styles than any rapper in the game, 11 years and still counting/ And y'all get a couple hit records, make some noise and have the nerve to start shouting,". This is not the highlight of the mixtape though. " M**** F**** Can You Buy That" is a well sampled beat by Drugs which was used before by fellow Atlien Killer Mike. Luda rips through it as expected, using his signature chest hitting punchlines and mind waving flows. The features from Meek Mill, Rick Ross, Gucci Mane, Big K.R.I.T, and 2 Chainz never over shadow Luda on any track. Production from Mike Will, M-16, and Juicy J are standout efforts but nothing new from each respective beat maker.  It's a good sign that Luda still has it because his next full length album "Ludaversal" is expected to drop early 2012. The mixtape seems to be composed of Luda fooling around ripping beats and getting points across.  If you know Luda. you know his album will be all business.
Comments
comments
Category: Album Review, Reviews