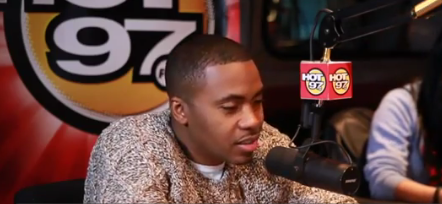 Yesterday on Angie Martinez' birthday, seasoned veteran, Nas stopped through her radio show and opened up about what's been going on with his career, possibly getting back with Kelis and the fact that he has gotten 18 Grammy nominations, throughout his career but still hasn't won one yet.
Nas also talked about the recent nod he received from CNN, crowning him the best lyricist of all time. When Angie and the crew asked him if he agreed with the title, he answered: "Yeah… Kinda".
At a concert, Nas even addressed his fans and admitted that he sent Kelis a text message asking that the two make love for one last time. While he didn't say what her response was but from what the mood was i the room, she possibly declined his request.
He went on to add that the break-up "still hurts bad. That pain is real, y'all. That shit is real". The remarks were made during a rendition of recent album track 'Bye Bye Baby', which is believed to be about the 'Milkshake' singer.
Nas and Kelis were married for five years before splitting in May 2010. The hip-hop star has since been open about the split and famously appeared on the cover of his latest album, 'Life Is Good', holding his estranged wife's wedding dress.
Check out Nas's full interview below and see what else he had to say.
Follow us on Twitter: @HipHopEnquirer
Comments
comments
Category: Interviews, Latest Hip Hop News, Music