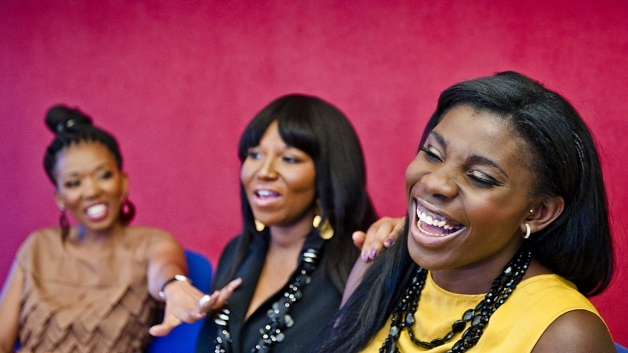 We definitely didn't see this one coming, but according to The Hollywood Reporter, Nelson Mandela's granddaughters, Zaziwe Dlamini-Manaway and Swati Dlamini are making their reality world debut. Their show, "Being Mandela" has been in the works since 2011, according to reports over at BET, but now the show has a premiere date of February 10 at 9pm on NBC affiliate channel, Cozi TV.
"Being Mandela" chronicles the life of Zaziwe and Swati who were both born in South Africa but spent a lot of their childhood in America, while their grandfather was imprisoned. In 1991, the women returned to South Africa as teens after their grandfather was released from prison.
The show will follow Nelson Mandela's granddaughters as they deal with their careers as owners of a clothing line called "Long Walk to Freedom", visiting Robben Island where their grandfather was imprisoned for almost two decades, family issues and more.
The sisters gave this joint statement on "Being Mandela":
"This show is about us and our lives — both as individuals and as members of the Mandela family… It offers a window on how we far we have come to re-establish our lives. We are excited to share the story of our lives, and hopefully viewers will be able to appreciate how universal the human story is."
Check out a clip below of the granddaughters discussing the upcoming show:
Follow us on Twitter: @HipHopEnquirer
Comments
comments
Category: Latest Hip Hop News, Media Gallery