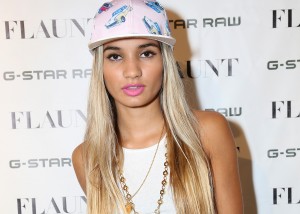 Guam-born goddess and Kanye West's protege, Pia Mia Perez, has been taking on the music industry one step at a time. Similar to Justin Bieber, Pia had her start to stardom on YouTube, making covers to hit songs and making a music video, "Bubblegum Boy" (2011), with Disney's Shake It Up star, Bella Thorne. Pia Mia Perez has recently signed with Interscope Records back in February 2014, been featured on the soundtrack for the new science fiction action film Divergent, and released an EP, "The Gift", gaining over 100,000 views on the extended play alone. The Divergent soundtrack peaked at number 16 on the Billboard 200. Most popular for her cover of Drake's "Hold On We're Going Home", has been alive and well in the music studio making collaborations in singles, such as "Fight For You" with Chance The Rapper.
[kkytv id="dtB3jC9lX14″]
Princess Pia Mia is anything, but shy, of the entertainment industry. Being close friends with Kendall and Kylie Jenner definitely broke the 17-year-old singer-songwriter free of any camera shyness she's ever had. Pia Mia was, first, introduced to Chris Brown's manager and record executive, Abou 'Bu' Tahim, in 2013 and proceeded to work on her material with producer, Nic Nac. Starring in commercials and music videos, with two hit music videos of her own, Red Love and Mr. President, there is only prosperity in store for this young up-and-coming singer-songwriter. Her unnamed debut album is scheduled to be released during the summer of 2014.
[kkytv id="bluTzfjS_3w"]
[kkytv id="zrV_U-cAQKo"]
Follow us on Twitter: @HipHopEnquirer
Comments
comments
Category: Latest Hip Hop News, Media Gallery, Music, New Music Alert