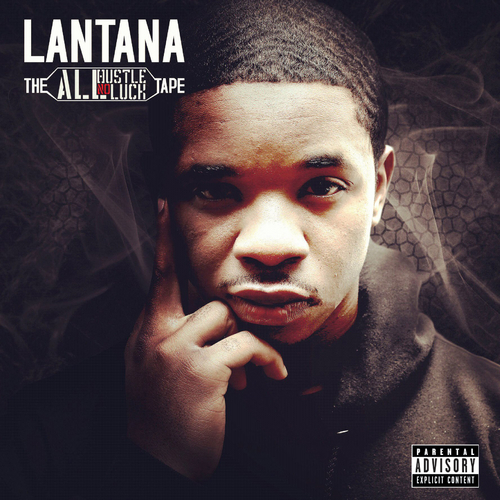 Besides Kid Cudi, King Chip and a couple of others, when you think of hip hop, Ohio is one of the last states that comes to mind, but newcomer Lantana is here to change all of that. The Cincinnati native recently dropped his latest project, "The All Hustle No Luck Tape" which features heavy-hitting street beats, vividly real lyrics and the drive of a man who was incarcerated and determined to make up for lost time.
The 'All Hustle No Luck Tape' is important to me because it's the best opportunity I have to put me and my people in a better situation.  I made this tape with the intentions to motivate people in whatever they want to do in life.  My brand, 'All Hustle No Luck,' is more than words… It's a lifestyle and the lifestyle that I live. I truly believe nothing worth having comes easy.

– Lantana
The young rapper's "All Hustle" mentality is definitely evident in his work ethic. Since 2011 he's performed all around Ohio, and opened for artists such as Big K.R.I.T., Young Jeezy, Yelawolf, Machine Gun Kelly and more. And unlike so many rappers today who drop a mixtape and go ghost for weeks or months at at a time, Lantana drops new material for the masses weekly. He recently started his "All Hustle No Luck Mondays" series which he drops at the beginning of every week and chronicles his life on the road to his success.
Check out Lantana's latest installment of All Hustle No Luck Mondays where he spits over Kendrick Lamar's "The Recipe" below. You can also check out the emcee on Twitter at
@LantanaEasy
. "The All Hustle No Luck Tape" can be downloaded over at
DatPiff.
Follow us on Twitter: @HipHopEnquirer
Comments
comments
Category: Latest Hip Hop News, Music, New Music Alert