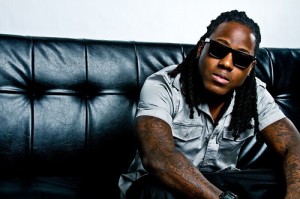 It's a well known fact in this game that once you begin your career, you have to keep a steady grind to stay relevant. 2011 is almost over but Ace Hood's grind is just getting started. Broward County, Florida's finest had an above average year, much credit due to arguably the hottest track of the year: "Hustle Hard" Remix ft Rick Ross and Lil Wayne. His third solo album Blood Sweat and Tears sold average numbers but Ace displayed how much he has grown as an artist.
The Statement 2 is the latest example of Ace's newly found flows and rhyme schemes. Ace paints pictures of pain, struggle, love and success over impressive sounds from We The Best production duo, The Renegades.  Although guest appearances from 2 Chains, Wale and Movado all compliment the sound, not every rapper can hop on tracks with Ace and keep up with his flow. As expected, Rick Ross is featured on a number of occasions, none of which over shadow the remix to"Shit Done Got Real" featuring Busta Rhymes and Yelawolf.  Things get emotional on "Forgivin" over a classic Nas sample where Ace displays his key talent of painting pictures with his words. Not many artists his age posses that skill. If he keeps polishing his skills, Ace could really be a problem in years to come. Check out The Statement 2 below.

Download Mixtape Free | LiveMixtapes.com Mixtape Player
Follow us on Twitter @HipHopEnqMag and @Alex_HHE to give us your thoughts.
Comments
comments
Category: Music, New Music Alert