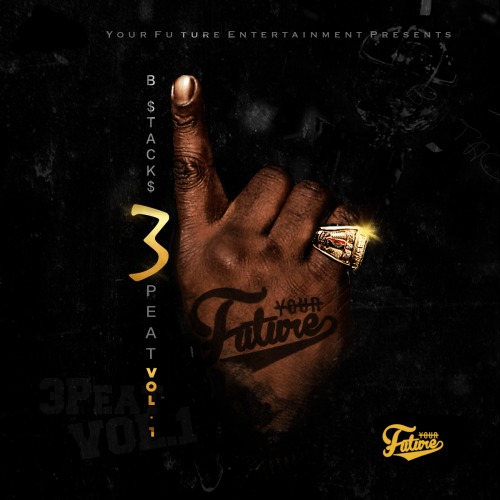 Durham, North Carolina rapper B Stacks preps for his new mixtape 3 Peat which was just released on Datpiff.com this Sunday is on fire! B Stacks has been a consistent rap star since 2007 with his previous mixtape being hosted by veteran DJ/Producer Don Cannon called R.O.A.E. (ROOT OF ALL EVIL). That mixtape was a success and reached a new fan base for B Stacks that led to his success in hip hop.
Not satisfied with simply being a regional success, but Stacks looks to branch out and become a bigger name and be the next success story in hip hop. His 13 track mixtape is a nice effort to improve on his current status. What is to be admired on this tape is that Stacks used producers that are under the radar than opposed to chase a producer and their sound that is currently hot.
This allows for B Stacks to be the focal point of the records, which comes out in all of his songs. The first song "Off Da Block" is a good opener which sets the stage for the entire project, but does not display his lyrical ability as strongly as it may have should. "FWM" is positioned perfectly as it continues the street-turn up vibe that has been established from B Stacks.
"Chances" is the lead single which has been previously featured on Hip Hop Enquirer. This is the record that B Stacks really finds his niche. It allows him to flex his pen game with a very strong hook that bridges his verses perfectly about the risks of moving contraband on the highway. "Chances" is the type of record that can break a career open and B Stacks has it. "South Side" is a record that falls section as "FWM" and "Off Da Block". With it not being as strong as the previous two, its positioning on 3 Peat , thus makes it sound repetitive which is not a good thing, but probably the one knock on the project's opener .
"Picture That" does a better job of steering the mixtape back on course but it also falls somewhat short, as it sounds formulaic. Since the record is only two minutes long, it serves more of a buffer to what is the next standout record on the project "Deep End". "Deep End" is a hustling anthem that sounds like it belongs in any club during peak hours. While it is not overly complicated in how it is put together, it does not need to be. "I'll Never" is the song for ' ride of die' girls out there. If you could put a song as a backdrop to those relationship goals memes that have taken over the internet this would be the record.
"No Favors'" is underwhelming because there sounds like there could have been something special here. The last verse is really provoking and you are gonna wish was longer. If the song was to have an extra verse to it, this could have been another featured track . There was more that could have been done here on "No Favors" if time had been permitted.
"Respect" is another anthem that B Stacks has a knack for creating. Stacks speeds up the flow on the record and the beat is just ridiculous with a very nice "Make Em Say Uhh" sample mixed into the record. If you are just looking for one new song for the car when you are cruising the highway, "Respect" would be it.
"Hard" falls into the filler category, but "Hold of Me" is a straight raw cut that is real hip hop. Reflecting on his hardships and friends lost due to a variety of circumstances, this is one record that displays the range of B Stacks. The bonus tracks "Dirty" and "Round My Way" are good songs as some inner Future is channeled in "Dirty" except Stacks is not referring to codeine and "Round My Way" is probably the best exit to the mixtape as this is the record that if you had to play for someone to get general idea of his sound, this would be it.
3 Peat is a solid effort from B Stacks and the first half of the mixtape is somewhat generic in sound it is still good music, but the second half is where you really get a good indication of his growth as an artist and makes you excited for new music to come out. It is a cohesive project which is one of the most important and yet underrated aspects in putting music together. Stacks already knows how to navigate that lane and with more records on the side of "Respect", "Chances'' and "Deep End" you see a real potential for this young guy from Durham, North Carolina to be on the map. The project was executive produced by music veteran Maurio Mitchell and Sandy Ledbetter under the Faculty Entertainment and YF brands.
Follow us on twitter@hiphopenquirer
Comments
comments
Category: Album Review, Latest Hip Hop News