Jay Z has ended 2017 with an amazing visual for his hit song Family Feud that features cameo appearances from a stellar list of celebrities that include his wife Beyonce and daughter Blue Ivy.
The visual was directed by Ava DuVernay the film spans more than 400 years, beginning in the year 2444 with a Shakespearean tale of infidelity, politics and murder before working its way back through different generations. The video concludes in a church in 2018, with Blue Ivy watching her father Jay Z confess in a confessional booth and her  Beyonce performing in the pulpits.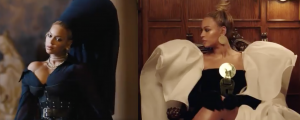 Jessica Chastain, Michael B. Jordan, Thandie Newton, America Ferrera, Brie Larson, Rashida Jones, Mindy Kaling and Rosario Dawson are among the all-star cast.
Family Feud is a powerful song shedding light on the importance of unity within family especially the black community. Check it out exclusively on Tidal.
https://embed.tidal.com/tidal-embed.js
Comments
comments
Category: Archives, Breaking News, Feature, Latest Hip Hop News, Media Gallery, Special, Talk of the Town, Videos