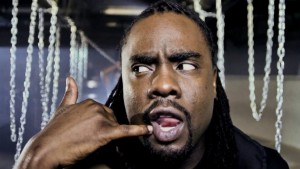 The district has been well represented with Wale's presence on the charts. His sophomore album Ambition has been the soundtrack for love seekers and lust seekers alike. Although Wale has been living on the radio with singles like "Lotus Flower Bomb", it's about time for another track off the album to make news. The Rik Cordero-directed video for "Chain Music"  shows Wale's "humble" side (when he was broke) and the "Geechi" side (now that he's rich) and how people react to him whether it's a car dealer or a hot model. The video also features Wale surrounded by chains as he complains about girls who are checking for him now that he's wearing gaudy jewelry, opposed to his lack thereof when he was on the come up. Check it out below.
[kkytv id="OMkCqyoBcuY"]
Follow us on Twitter @HipHopEnqMag and @Alex_HEE to give us your thoughts.
Comments
comments
Category: Media Gallery, Music, Videos