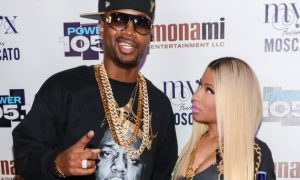 Safaree Samuels seems to be in his feelings and holding grudges about his ex, Nicki Minaj, but let it all out in his new track "Love The Most" released on Wednesday.  In the song, Safaree puts Nicki on blast about their 12-year relationship and breakup.  Apparently this song didn't sit to well with Nicki because she took to Twitter to tell her side insinuating he cheated on her.
[Tweet "Will Safaree respond to Nicki Minaj's claims or will he let it go?"]
"Lesson: don't cheat on a loyal woman. God will punish u. When he does, tell people the truth. The truth may set u free. Love. Always."
Nicki sent out a string of tweets one basically telling Safaree to get over it. "Enough of the pity party Just live your life."
While she was on a rant about Safari, she made it known that she is currently in love. "And just for the record, I'm in love with meek."
Check out some of her tweets below.
Comments
comments
Category: Latest Hip Hop News, Talk of the Town