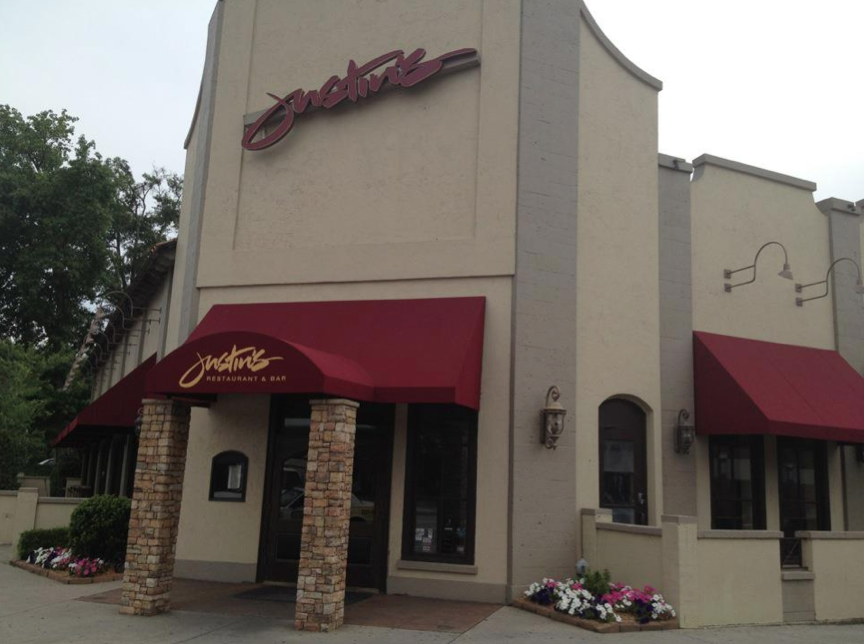 Justin's Officially closes it's doors / Photo: Dennis Byron (c) 2012
Well folks it's a sad day for the inhabitants of Atlanta's Buckhead community.  We regret to inform you that one of the cities landmark eateries Justin's Restaurant will be closing its doors for good.
Earlier this week it was rumored that the go-to dining spot for trendy out of towners' and some of Atlanta's hungriest elite would be momentarily closing to undergo renovations. However, those rumors were dispelled once an official statement was released from a Bad Boy Worldwide Entertainment Group spokes person that the 14 year old restaurant would indefinitely be shutting down its operations.

The BBWEG rep cited that the decision was made to focus on "other business ventures in music, television, fashion, fragrance and spirits."
Some have speculated that once Atlanta radio personality Frank Ski Rodriquez opened his own restaurant Frank Ski's, business for Justin's took a nose dive of epic proportion.
Justin's, named after Bad Boy CEO Sean "Diddy" Combs' eldest son of the same name, opened its doors in 1998 and has always been the destination for a comfortable, hearty meal in an upscale environment and often held as a venue for many invite-only, celeb friendly events where A-list names such as Atlanta Housewives, Akon, the late Charles Mathis, Three Brown Girlz, rapper TI, Young Jeezy, T.I., HHE's Dennis Byron, and the Ciroc Boy himself Diddy would congregate to unwind for a night out on the town. It was the ultimate place to see and be seen!
Although this comes as disappointing news to many of Buckhead's active socials, fear not. The company who giveth and taketh away says they are "actively exploring business opportunities in Atlanta."
"Solomon, Steve, and the entire staff at Justin's was always great to their patrons and I will personally miss the late night walks to the restaurant to get a bowl of their award winning macaroni and cheese and that delicious jerk chicken." Stated Mr. Byron.
As for now, let us all bow our heads in silence and pour out a little top-shelf (of your choice) for Justin's Restaurant. For without which our social lives might have never been the same.
Follow us on twitter @hiphopenqmag for the latest on this breaking story
Comments
comments
Category: Latest Hip Hop News, Special