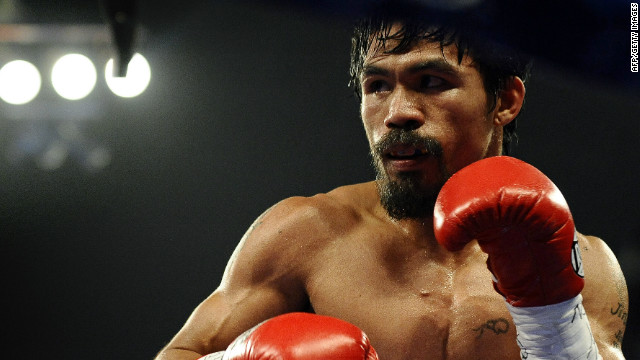 Stephane Vanel and Kami Rahbaran not only were disappointed by the 'fight of the century' this past Saturday but want to get paid from it too. Manny Pacquiao has blamed a shoulder injury as to why he lost the fight, as he could not use his right hand properly according to him. Well Vanel and Rahbaran feel that they were duped:
"on behalf of all persons who purchased tickets; purchased the pay per view event or who wagered money on the event…were victimized by [the] Defendants' failure to disclose and to cover up the injuries of Defendant Pacquiao."
Pacquiao and Top Rank promotions released a statement on Tuesday said the United States Anti-Doping Agency was informed of the injury. As they approved the use of a non-steroidal treatment for the shoulder only to have the Nevada Athletic Commission block the use of it as they claimed they were unaware of it.
A questionnaire was filled out where Manny Pacquiao should have checked off that he was dealing with a shoulder injury. That same questionnaire has a legal disclaimer that swears under perjury that the information is all correct. Manny's adviser Micheal Koncz took the blame on filling out the questions telling Time, "I checked it. It was just an inadvertent mistake."
Perjury is a felony crime and if convicted would cause Manny to face from one to four years in prison with a $5,000 fine. While the likelihood of this case is up in the air, Pacquiao does require surgery that will have him on the self for at least nine months.
It certainly could not help his shoulder since he was throwing punches at the air most of that night as Mayweather won by unanimous decision. Even if Manny has to pay up, he just made over $100 million that night and should be nothing to him.
Do you believe this might be just a setup to a rematch with Floyd Mayweather?
Follow us on twitter@hiphopenquirer
Comments
comments