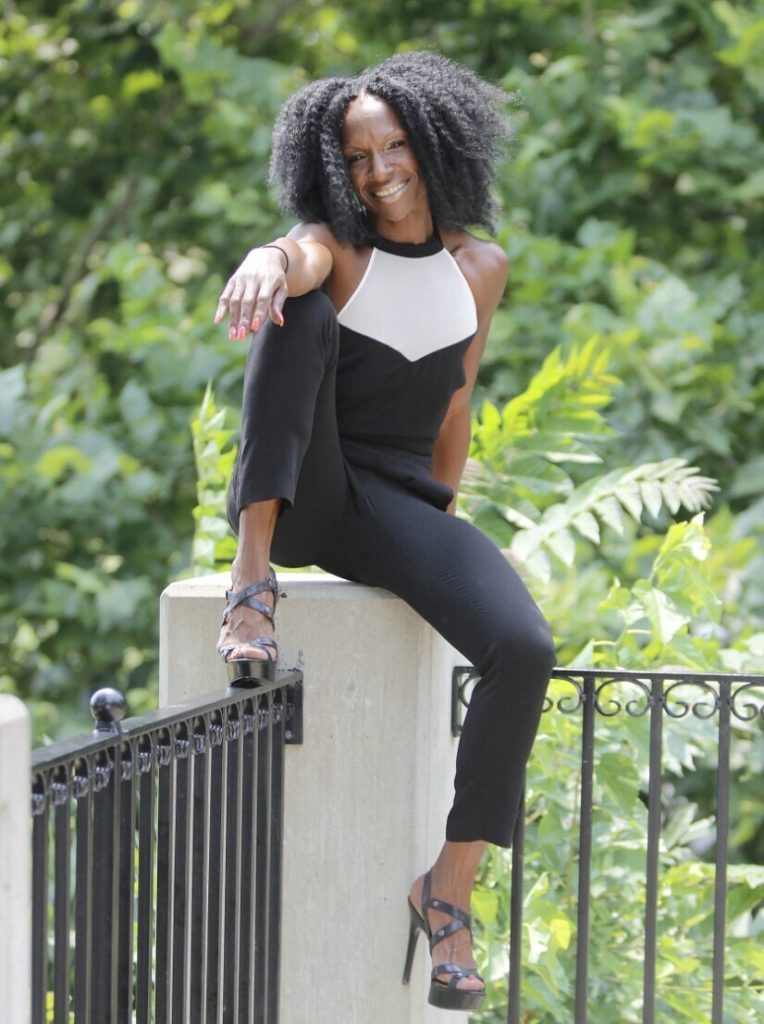 Investigative Reporting by Dennis Byron
Former New York City prosecutor turned defense attorney Ikiesha Al-Shabazz has proven time and time again that she possesses that winning touch for victories no matter what side of the table she sits on.  Ms. Al-Shabazz is famously known for representing some high-profile clients and has also been responsible for winning a victory for rap star Foxy Brown years ago for an incident involving her neighbor that could have landed the Brooklyn femcee in prison. Most recently Ms. Al-Shabazz was back in the spotlight when a facebook video she posted went viral.
She like many were outraged at the outcome of the Tamir Rice death investigation and the lack of an indictment being returned against his killer, a Cleveland police officer with a colorful record. "I know some things that I don't think you guys know," she says at the beginning of the video, which has been viewed more than 1.9 million times in 48 hours. "I want to share it with you because my level of outrage and frustration is at an all-time high. I don't want to be in this fucking country no more. I just want to fucking leave."
She understands all too well how it is very easy to get an indictment against anyone and the biases that are given to people of color. In a recent victory for one of her clients who was charged with murder, Ms. Al-Shabazz successfully convinced a jury that just because someone signs a confession, it doesn't necessarily mean that they are guilty.
The nightmare began on March 13, 2014. Sekwan Carter appeared at the Queens County Courthouse to pay a fine. He was 30-years old and on his way to work after paying the fine but as he was leaving the courthouse, members of the 113th pct. arrested him. He was searched and placed in a police car and transported to the precinct. He was told that they had a warrant for his arrest, which he never saw. Once at the precinct, Mr. Carter was placed in an interview room with two detectives, Det. Zozarro and Det. Faranda. The detectives began to interrogate him about the April 11, 2012 murder that happened not far from his home. He told the detectives that he knew nothing about the murder.   It was not the answer they were looking for nor would accept. He asked for a lawyer –they told him he did not need one.
The detectives then went through great pains to explain the details of the case to Mr. Carter and how he certainly did NOT need a lawyer because he had a viable self-defense claim (remember cops can legally lie to you during a criminal investigation). They explained to him that the victim was a bad guy and that he was a good guy and they knew how and why it happened. They told him they knew he had been in a fight with the victim the day before he was killed. They told him that they knew that after the fight, the victim came to his block and began shooting at him and he ran. They also told him that the victim had been shot in the chest and had crashed his car.
According to courtroom testimony, the detectives said they had been contacted in January 2014 by someone who had been arrested in another state on drug charges. This person claimed to have information about the murder of April 11, 2012. That person then identified Mr. Carter as the shooter.
Still they maintained that Mr. Carter did not need a lawyer because based on the details that they had about the case, he had a good self-defense claim.
The detectives went to great lengths to convince Mr. Carter that he didn't need a lawyer morphing into lawyers themselves printing out statutes on murder, manslaughter and self-defense and explaining to Mr. Carter "their understanding" of the difference between cold-blooded murder and self-defense murder. They explained to Mr. Carter that this was definitely justified and as a result, there it would be no consequences (again remember cops are allowed to lie to you in the course of their investigation which the US Supreme court ruled years ago).
One officer decided to tell Mr. Carter a little story. He showed him a tattoo on his forearm and told the story of his friend who was murdered and how the person who murdered his friend was sentenced to life in prison and found dead in his cell. They did the standard "we'll put in a good word with the DA for you" line and he would not be charged. All he had to do to get out of this was to do what they told him and so he did. Using the details the detectives had given him, he wrote out a statement confessing to a crime that he did not commit.
Mr. Carter did not go home that day, instead he was charged with Murder in the 2nd degree for the death of Sydney "Beans" London, and two counts of criminal possession of a weapon in the 2nd degree.   Mr. Carter was arraigned and held without bail. While he was imprisoned awaiting trial, he lost his uncle and his grandfather, neither service of which he was allowed to attend. He lost his job. He lost everything.
Mr. Carter had always maintained his innocence. He could not explain why he confessed, expressing that the police officers had gotten into his head, which is not uncommon in a false confession.
False confessions are virtually indistinguishable from true confessions. They often are the product of unfair police tactics combined with scare tactics, sometimes sleep deprivation, psychological manipulation, physical threats, threats to remove children by social services, lies about nature and quality of evidence just to name a few. The only thing that was missing in extracting this coerced confession statement was waterboarding (sarcasm inserted).
According to the innocence Project website, of all the people exonerated by DNA evidence, 25% confessed to a crime they did not commit. The court system is well aware of the false confession phenomenon, and most states and federal law prohibit someone from being convicted on their words alone. Most jurisdictions require that a confession be corroborated. However, there is a loophole in this need. The corroboration need only requires corroboration of the crime, not of the identity of the perpetrator. In other words, a person can be convicted on his statement alone as long as the prosecution can prove that a crime was committed by someone – ANYONE!!! The rationale for this, as articulated by the courts, is to prevent people from confessing to crimes that had not occurred at all. So in essence, the rule does not necessarily apply to people who confessed to crimes that have actually occurred.
False confessions are counter-intuitive. Most people can't understand why anyone would ever confess to a crime they did not commit. Mr. Carter knew that taking his case to trial would be in uphill battle to say the least. Jurors tend to believe confessions over physical evidence. Confessions are the gold standard in police work and in evidence in a court of law. Mr. Carter knowing that he was innocent, decided to roll the dice. He was going to trial! The thought was terrifying. If he lost trial, he faced life in prison. Before trial began, the prosecutor offered Mr. Carter a plea deal to manslaughter in the 1st° and 15 years in prison. Would he be sorry later if convicted and sentenced to life in prison for not taking that 15 years, knowing that the system is corrupt and not fair, and that he probably would not get a fair trial. After having sat in prison for almost two years, Mr. Carter went to trial.
Trial began on January 11, 2016. before Honorable Barry Schwartz, Queens Supreme Court. The prosecution were represented by Assistant District Attorney Peter Lomp.
The prosecution would soon reveal that Mr. Carter was identified by a police informant. That informant agreed to testify against Mr. Carter in exchange for a deal. Get out of jail free card! The prosecution proffered witness after witness that supported the theory that the victim was shot by someone INSIDE the car. One police report recounted finding a shell casing INSIDE the crashed car. This was counter to Mr. Carter's statement and the informant's version of events. However, no shell casing was introduced into evidence.
The Prosecution's theory of the case was that Mr. Carter shot Mr. London from outside of the car while Mr. London was seated in the driver seat. After Mr. London was shot, the car accelerated wildly, crashed into several cars before coming to a stop.
Comments
comments
Category: Breaking News, Crime Stories, Interviews, Latest Hip Hop News, Talk of the Town