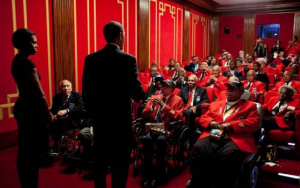 By Sean O' Connell
I have, which is part of the reason why I'm pretty geeked over this official photo released by White House officials. It shows President Barack Obama and First Lady Michelle Obama greeting actual Tuskegee Airmen ahead of a screening of Anthony Hemingway's "Red Tails," which opens in theaters on Friday.
[kkytv id="BpA6TC0T_Lw"]
Fox has been doing an excellent job of bringing the airmen to choice promotional activities, celebrating them as heroes and letting them do the talking on behalf of this extraordinary historical story.
"Red Tails," executive produced by George Lucas, tells the story of the first African American pilots to conduct important aerial missions on behalf of the U.S. during World War II.
The film stars Cuba Gooding Jr., Terrence Howard, Tristan Wilds, Ne-Yo, Nate Parker, Method Man and more. It opens everywhere on Jan. 20, but the Obamas saw it on Martin Luther King Jr. holiday.
Follow us on twitter @hiphopenqmag
Comments
comments
Category: Latest Hip Hop News, Media Gallery, Movie Review