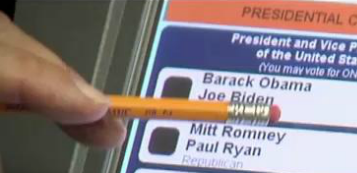 She's in her 60s and had never missed a chance to vote in a presidential election. But this year, she left the polls "really upset."
She asked us not to use her name, but says she waited two hours in long line Wednesday at the Upper Marlboro Community Center. She says she voted for Barack Obama, but the machine defaulted to a vote for Mitt Romney.
She says she is certain she did not make a mistake and only saw what happened when she double-checked the ballot.
"I went back and my 'X' was under Mitt Romney," says the lifelong Democrat. "I was very disgusted. I was upset, like what is going on here?"
She says she did point it out to an election worker who was helpful in making the change to the ballot.
"We haven't had one report of any voting irregularity," says Alisha Alexander, the Prince George's County elections administrator.
But there have been other complaints around the country – including one in North Carolina where a voter says she wanted to vote for Romney, but the machine kept defaulting to Obama.
Back in Maryland, Alexander says double check your ballot and remember to read the sample ballot ahead of time – especially this year.
"In Prince George's County, we do have 14 questions on the ballot – which could potentially extend the average vote time," says Alexander.
The woman we spoke to says she doesn't care who you vote for. She just wants the election to be fair for everyone. Her advice to voters: "I would tell them to check and make sure they're voting for the right person – whether it be Mitt Romney, Obama – either or."
Source Fox News MD
Hip Hop Enquirer Magazine | Follow us on twitter@hiphopenquirer
Comments
comments
Category: Latest Hip Hop News