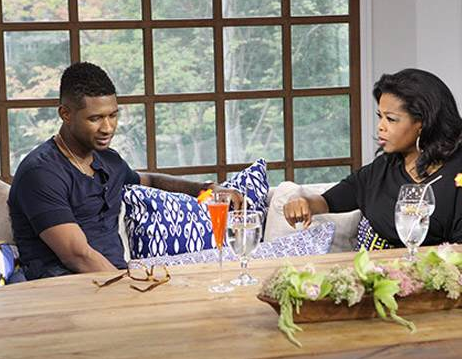 Within hours after International singer Usher Raymond and Tameka Raymond walked out of a Fulton County Superior Courthouse where they were scheduled to appeared before controversial Family Court judge Bensonetta Lane, talk show queen Oprah Winfrey announced via a youtube commercial that Usher will in fact appear on her show this upcoming Sunday.
His appearance on the show comes as little surprise since some have speculated that the only reason why he filed his custody case in the first place was to help garner more attention around his music career. According to Oprah, the singer will explain how his custody battle with Foster-Raymond affected him as well as he will answer the million dollar question; Did he cheat on Tameka during their marriage?
We reported during the trial that the singer bolted out of the courtroom after there was testimony given by Tameka that he had in fact slept with one of her bridesmaids. It was very apparent that the singer didn't agree with Tameka's ascertain that he cheated on her with one of the bridesmaids so we doubt if he would have admitted that to Oprah as well.
[kkytv id="l_mB9Geb0g0″]
According to Winfrey, the interview took place in the singer's Atlanta home after the judge rendered her decision and don't expect to see the kids in the interview as Tameka would have had custody of them during that time. While Oprah was granted access with her camera crew, she was not the only one who was fortunate enough to take a walk in his sprawling mansion. You might recall that an Ohio woman named Darshelle Jones-Rakestraw was caught sitting in the singer's kitchen taking photos and talking to one of his children before his security escorted her from the home. A court has since issued a permanent restraining order for the woman to stay away from Usher and his family.
Our hopes is that he doesn't manipulate the queen of talk and provide candid answers to her questions. An extra added bonus would be to have Tameka Raymond on her show to provide her side of the story. #Justsaying.
Hip Hop Enquirer Magazine | Follow us on twitter@hiphopenqmag
Comments
comments
Category: Celebrity Justice, Latest Hip Hop News, Talk of the Town