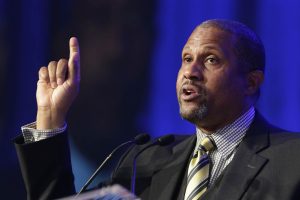 Tavis Smiley has finally spoken out after being accused of sexual misconduct on Wednesday, and loosing his PBS distribution deal that cancelled his show "Tavis Smiley". Smiley accuses PBS of running a sloppy investigation and says he will fight back.
TMZ caught up with Tavis and he says PBS railroaded him during its investigation into claims he was having sex with staffers, and he's vowing to take a stand against the network's "overreaction." Smiley also stated that  he only learned of the PBS investigation through former staffers who let him know they'd been contacted. Smiley says he confronted his bosses, and only then did investigators talk to him … for 3 hours.
He says investigators refused to talk to his current staff or accept documentation supporting his side of the story. He insists he "never groped, inappropriately exposed myself or coerced any colleague in the workplace ever in my 30 year career."
Tavis Smiley's
 nightly program has been aired on PBS since 2004. PBS does not produce, fund, or employ Smiley or his staff, but it does distribute the "Tavis Smiley" program, according to the outlet. 
The company made the decision after an investigation into Smiley's behavior "uncovered multiple, credible allegations of conduct that is inconsistent with the values and standards of PBS," the statement said.
Smiley allegedly had sexual relationships with multiple staff members, some of which reportedly felt that their relationship with the TV host was connected to their employment status.
Some said Smiley's behavior generated a hostile work setting.
Comments
comments
Category: Breaking News, Celebrity Justice, Feature, Latest Hip Hop News, Legal, Politics, Talk of the Town