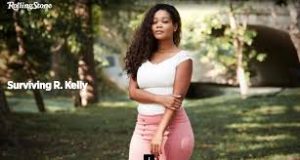 Another woman has come forward in the latest R Kelly Sex Cult Scandal. Kitti Jones a former Radio DJ for Dallas, Texas hip-hop and R&B station 97.9 shared an exclusive interview with Rolling Stone, sharing detailed information about her 2-year relationship with famed R&B Superstar.
Jones claims that she and R. Kelly were together from 2011 to 2013 and she suffered physical, emotional, and mental abuse for the entire relationship. Jones met R Kelly while hosting the Beat-sponsored after-party at Fat Daddy's, a club in suburban Mansfield, Texas. Jones tells Rolling Stone that  Kelly went to shake her hand after small talk, he gave her a piece of paper with his phone number and told her to text him her number. Jones says that after she texted Kelly from the bathroom, he replied, saying to always call him "daddy" ­– never call him Rob.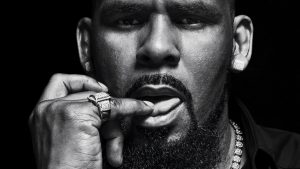 According to Rolling Stone Jones expressed her 2-year draconian ruled relationship as a nightmare that had her even contemplate attempting suicide. Jones expressed the same kind of treatment that writer Jim DeRogatis' bombshell BuzzFeed featured in July. Exposing R Kelly of alleged physical abuse, sexual coercion, and emotional manipulation. Living by rules, that included her to ask what and when she could eat, how to dress, when to go to the bathroom and how to perform for the singer sexually. Jones shared that when she did something wrong she would be punished by either physical abuse, starvation, or having her cell phone taken away.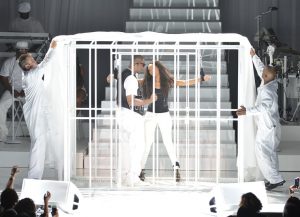 You may have remembered Jones from a live skit from one of R Kelly's shows.  Kelly brings Jones onstage with two men dressed in white lab coats with her arms chained inside a white cage. Kelly enters as a white sheet is draped over the cage, obscuring the couple. The cage begins rocking as the band's music intensifies, with Jones and Kelly eventually shown silhouetted. After Kelly simulates oral sex on Jones, the two re-emerge, and a mock-fatigued Jones is led offstage. "'I've never paraded around anybody before,'" Jones says Kelly told her before the tour started. "'I'm gonna make sure people see us together.'"
Jones shared with Rolling Stone that Kelly would frequently fly girls in for sex, and order her and his other girlfriends to hook up with them. "You can't say no because you're going to get punished," she says. "You just become numb to what's happening. It's so traumatic the things that he makes you do to other people and to him."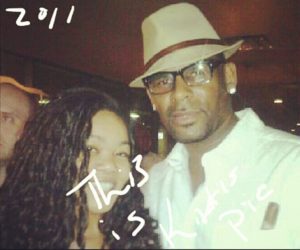 Jones shared how she had to engage in sexual acts with other women including witnessing two young women being urinated on. In which she describes as amusing to the R&B Superstar; "It was just a game for him," she says. "He just went back and forth [on them] when he was peeing and told [another girlfriend] to clean it up afterward. That was the worst that I've ever seen."
In September 2013 according to Rolling Stone, Jones told Kelly that she wanted to visit Dallas to take her son, now back from Europe, school shopping. "I was fed up with just everything," she says. "Fuck what people are gonna think. You need to take your ass home." She left her possessions in Chicago, flew to Dallas with two suitcases and never returned. "She had to be careful as to what she was packing," Howard says. "Nothing that had heels or club clothing. She just had to have her sweats and T-shirts."
Two months later, after leaving R Kelly Jones shared that, Kelly went to Dallas for a show and met with Jones, ostensibly to return some items she left in Chicago. Jones says he remained amiable before meeting her, inviting her to his tour bus, but when she got on the bus, Jones alleges Kelly assaulted her. "I walked on the bus and I was like, 'Hey daddy!' And I went to go hug him and he was like, 'Bitch, I'm not giving you shit' and he was just attacking me," says Jones. "I knew he wasn't going to kill me, but it was a lot of force. I was thinking, 'I'm not going to call the police.' I just felt so stupid," she says.
Rolling Stone reached out to Kelly with a detailed list of allegations Jones made against him, Kelly categorically denied them. "Mr. Kelly is aware of the repeated and now evolving claims of [Ms. Jones]," Kelly's representative wrote in a statement. "It is unfortunate that Ms. Jones, after public statements to the contrary, is now attempting to portray a relationship history with Mr. Kelly as anything other than consensual involvement between two adults. As stated previously, Mr. Kelly does not control the decision-making or force the actions of any other human being, including Ms. Jones, by her own admission. Any claim of wrongdoing of any kind or of mistreatment of any woman by him is false, ill-motived and defamatory."
Last December, Timothy and Jonjelyn Savage, the parents of 22-year-old Joycelyn Savage, who is currently living with Kelly and other women, asked Jones for advice on how to get their daughter to leave the singer, the couple confirms to Rolling Stone. Jones hadn't been keeping up with Kelly's current girlfriends, but initially tried to help the Savages.
She shares that, "I cried when she showed me photos of her daughter, and then I called [Joycelyn] 'cause I said, 'Maybe this is my moment to help somebody, 'cause I'm sitting here on this information that can stop [him]…. I felt like I had the power to stop him earlier." Jones says she no longer is in communication with the Savages but the conversations spurred her to consider going public with her story.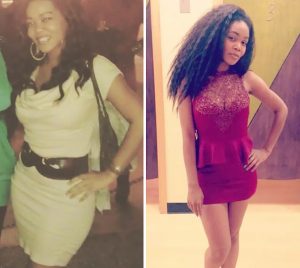 Jones told Rolling Stone that R Kelly reached out to her this past May. "He said, 'If someone came to you right now and asked them how I treated you, you can't fucking say that I didn't treat you good. … You had a roof over your head. You went shopping. You didn't have to want for shit. So you can never go around and say that I was a monster like other people say that I am,'" Jones says. "I was so scared when he was talking to me. I was like, 'This guy really thinks he did me a favor.' He doesn't look at the sexual stuff as scarring and damaging people."
Since leaving the Superstar Jones has made steps to rebuild her life she now sells car insurance and has even got back into radio. She has started a Non-Profit Organization called Stop Protecting Your Abuser. "By me being silent, it allowed him to feel untouchable, that he could keep things going as long as he could pay people off and put enough fear and shame in us that you would never speak on it again," she says. "Staying silent absolutely protects your abuser."
Jones story continues a long list of alleged sexual misconduct and abusive behavior against the famed singer. Unlike most of R Kelly's alleged victims where the women were young girls under the age of 25. Jones was an established woman with children and a career,  that fell under the spell of the Piped Piper, suffering two years of domestic abuse that will probably take her a lifetime to heal from mental and emotional trauma. One of Jone's biggest fears were the opinions of the public who she felt would call her stupid for putting up with the abusive behavior for two years. But after hearing more stories about other victims of the singer's way of life, she felt that it was her duty to shed light on the truth of who R Kelly truly is. She shared with Rolling Stone that if she would have come out sooner with her story, she could have saved other women from the alleged abuse and once and for all expose to the public that our beloved R Kelly is a broken man that needs some serious mental therapy and possible jail time.
Comments
comments
Category: Breaking News, Latest Hip Hop News, Special, Talk of the Town