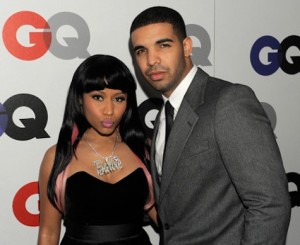 Nicki Minaj & Drake at GQ Magazine event
Well who could have seen this one coming? Apparently, the people over at Young Money have some interesting stories to tell especially since one part of the camp, rapper Drake decided to open his heart and lay it on the line with Elle Magazine about how Rihanna broke his heart. What was even more interesting is the fact that he stated that he could really see himself marrying Nicki Minaj. Peep what he had to say:
"At the time it hurt, but she didn't mean to. I'll never put that on her. I was hurt because I slowly started to realize what it was. I guess I thought it was more. That was the first girl with any fame that paid me any mind. You spend days reading about this person in magazines. All of a sudden you have this number-one song and you're at some birthday party and there she is. And you're just some naive kid from Toronto staying in some sh*tty-ass hotel who got invited to this party on a whim. That's just how it happened."
The relationship didn't leave him having negative thoughts about dating in Hollywood, since he's set his sights on marrying Nicki Minaj. The two pretended to get married on Twitter earlier this year, but Drake says he would lay it on the line for Miss Minaj.
"I don't know if we were really pretending. I'd marry Nicki. I think Nicki would be one of the only people that would understand me at the end of all of this and be able to love me."
Well, we wonder what Nicki and Rihanna have to say about Drake getting soft on them?
Follow us on twitter@hiphopenquirer
Comments
comments
Category: Latest Hip Hop News, Talk of the Town