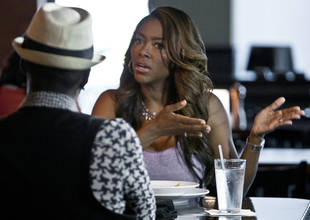 Before you guys say Kenya Moore is not hip hop so why is she on our site, the simple answer is that she was a featured Hip Hop Honey weeks ago so its only fitting to show her some more love. Click here to see her feature.
Kenya Moore was stuck with egg on her face when her reality-tv-world boo, Walter Johnson revealed yesterday that Kenya asked him to portray her boyfriend on the show, and that they weren't actually together.
Kenya took to Twitter last night, tweeting:
"The high road is any action taken or any word spoken with the intention of restoring peace, invoking healing, or advancing love. Good night"
This morning (December 11), the former Ms. USA continued to vent.
"I want to thank all my close friends who have reached out to me yesterday. I love you all and appreciate your genuine kindness and support. Everyone is so quick to jump to conclusions when people lie. Look to someone's motivations."
What we want to know is was he telling the truth..did you hire a boyfriend for the show or not? Proverbs and quotes are good and all but, RHOA fans want to know was this dude lying on you or were you trying to find "love" in all the wrong places?
Follow us on Twitter: @HipHopEnquirer
Comments
comments
Category: Latest Hip Hop News, Talk of the Town