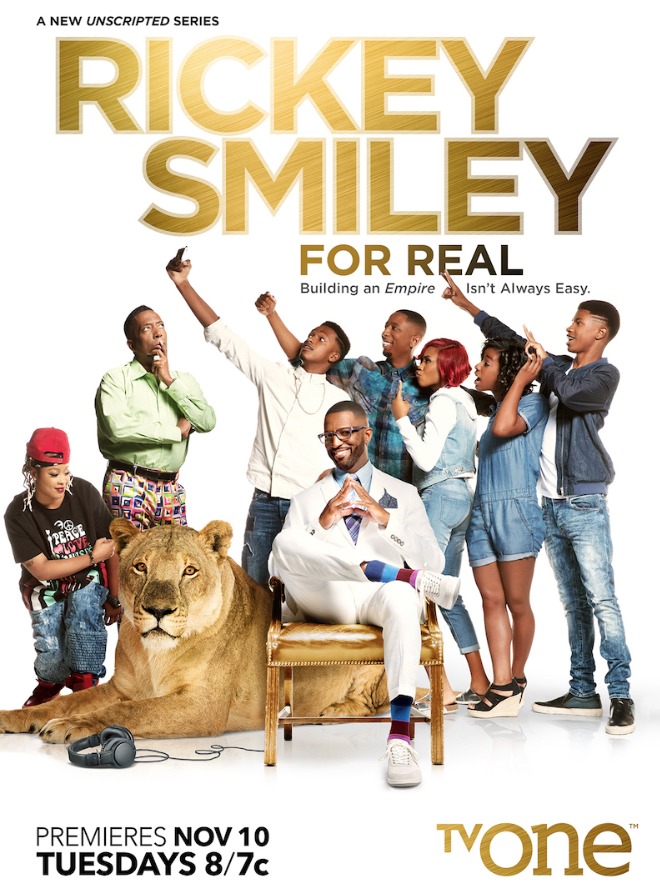 Award winning national syndicated radio personality, host and stand-up comedian Rickey Smiley returns to TV One with the premiere of his new docs-series Rickey Smiley For Real on Tuesday, Nov. 10 at 8 p.m. ET. The hour-long series takes a humorous look at Smiley's hectic life as he manages his career, single fatherhood and personal life. TV One's Rickey Smiley For Real is a voyeuristic view into what makes Smiley a successful media mogul in radio, comedy and television, as well as captures the syndicated host as he juggles two families – one at home and the other at work.
Throughout the season, viewers get a sneak peek at Smiley's most important role – fatherhood – as he keeps his head above water with an untraditional schedule and lifestyle. They will see Smiley in both relatable and un-relatable situations – cooking dinner, performing on stage, family outings, business meetings, raising his kids, celebrity dates and coaching co-workers – as well as get an insider's look at his professional life on the road, in-studio and backstage. Splitting his time between Atlanta and Birmingham, as well as his struggle to find work-life balance while trying to maintain a love life will be a central focus of the series. As a notorious bachelor, viewers will see him get real about romance.
"Rickey Smiley For Real showcases the 'real' Rickey," said D'Angela Proctor, TV One's SVP of Original Programming and Production. "We see his real job, real friends, real kids and his really crazy life. As a successful member of our Radio One family, Rickey's return to TV One is sure to resonate with our audience." Our only complaint is that we won't be seeing the sexy Porsha Stewart on this show however, since she received her peach on Real Housewives of Atlanta, you can catch her there.
Infusing his brand of comedy into every situation, Rickey Smiley For Real, also introduces viewers to his four children – sons Brandon and Malik and daughters D'Essence and Aaryn – as well as his extended family of co-workers, colleagues and friends – his nephew Craig, live-in assistant Miss Pat, personal assistant Angie, business consultant Bruce Demps, childhood friend and family lawyer Nikita Blockton, radio co-hosts Da Brat, Gary With Da Tea, Headkrack, Rock T and Juicy, and radio show producers Beyonce and Hollywood.
As a much-loved comedian, television host of Dish Nation, and top-rated nationally syndicated radio personality of The Rickey Smiley Morning Show, Smiley rose to superstardom after igniting his 25-year career serving as opening act for industry titans such as Steve Harvey, George Wallace and Carl Strong. Throughout his career trajectory, Smiley has been one of the industry's most towering forces in building an impressive empire that has landed him preeminent roles on radio, television, film and on-stage performances.
For more information on Smiley's personal and professional background, please visit: http://therealrickeysmiley.com and http://rickeysmileymorningshow.com.
Comments
comments
Category: Feature, Latest Hip Hop News