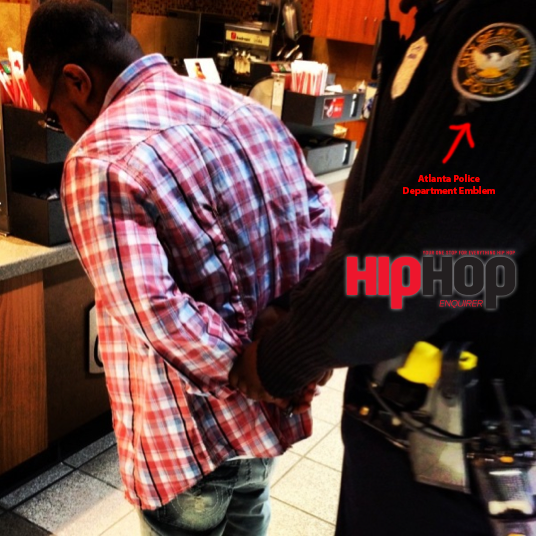 After the cancellation of rapper Shawty Lo's reality show by the Oxygen Network, some obviously thought the Atlanta rapper was easy pickings for a bogus rumor. This has proven to be the case in the most recent "story" that was picked up by several notable websites that the rapper was being "detained" and or "arrested" for back child support payments. On the face of it, some could say a man with 11 kids could potentially be behind in a few payments but in this case, it doesn't appear to be the situation.After doing our own independent investigation into the matter and speaking with sources from Shawty Lo's camp, we found out he was actually NOT ARRESTED due to failure of child support payment or anything for that matter.It all started when a picture surfaced on the internet Friday night of Shawty Lo being handcuffed by a City of Atlanta police officer.
HHE spoke exclusively with Shawty Lo's manger, Johnie Cabbell who stated that the picture is just a scene from the video shoot of an upcoming single.While speaking to his manager was only part of our investigation, we examined the actual photo of his purported arrest and determined that the cop wearing the uniform had an "Atlanta Police" emblem on the shoulder.
All Atlanta police arrests falls in the County of Fulton. We contacted the Fulton County Sheriff's Department and verified Carlos Walker alias Rico didn't have any arrests since 2010 and it was not for child support.
This all comes after a busy week for Shawty Lo when his Oxygen reality show, "All My Babies Mamas" was scrapped before it even premiered, due to protests and petitions from human rights groups, asking the network to not air the one hour special.The rapper isn't taking Oxygen's decision lightly though, as he has started his own Change.org petition to get the show back on the air. The petition has already received 1,500 signatures. He has also received support from fans and fellow rappers alike, such as Gorilla Zoe who recently tweeted, "Lets get my boy @THATSSHAWTYLO show back on air".
Editor's note: We don't have an issue with the revival of Shawty Lo's Reality show as long as all the kids will use the proceeds of the show to get a higher education and become productive citizens of society. Everyones entitled to making a living! Bloggers/Journalists, remember to check your sources before you run with a story because this is how lawsuits start. Remember the rules of reporting: Who, what , when where, why, how and properly source your material.
HHE will keep you posted on the status of Shawty Lo's reality show and more!
Follow us on Twitter: @HipHopEnquirer
Comments
comments
Category: Latest Hip Hop News, Media Gallery, Special