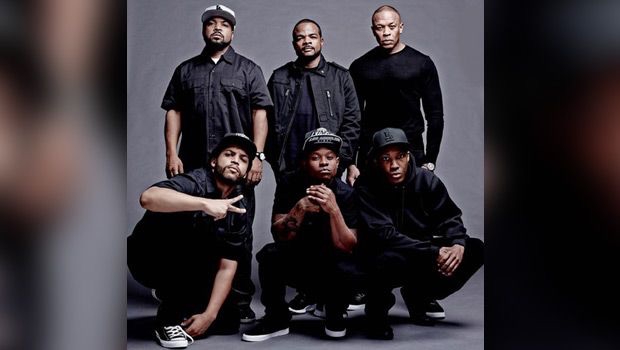 The film trailer for "Straight Outta Compton" was released last night during the Grammys. The NWA biopic stars Ice Cube's real-life son O'Shea Jackson Jr. as Cube, Jason Mitchell as Eazy E, and Corey Hawkins as Dr. Dre.
In the trailer intro, it shows an older Cube and Dre riding through their old neighborhood reminiscing about the problems in the 80's and referring to all the problems still going on today. Also, they speak to fellow Compton rappers like The Game and Kendrick Lamar about what NWA's legacy meant to them growing up.
Ice Cube shared a few things about the founding of N.W.A.
"In 1984, I met Compton's best DJ. His name was Dr. Dre, the cousin of my homie Sir Jinx," Cube said. "He liked the neighborhood rhymes I was spitting and we started hanging out all the time. Talking and thinking music.
"A couple of years later, Dr. Dre's little hustling friend Eric (Eazy-E) Wright started coming around," he continued. "We all created a song together called "Boyz-N-The-Hood" … and the world would never be the same."
"Straight Outta Compton" will be released in August 2015. We can't wait to see it either!
Follow us on Twitter @hiphopenquirer
Comments
comments
Category: Latest Hip Hop News, Movie Review