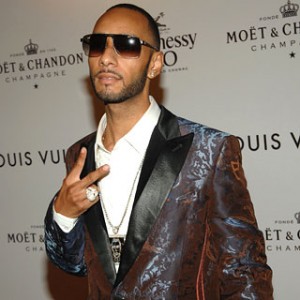 First there was the random video of Kanye West  co-signing  Megaupload, then there was the  random  song praising the site featuring Chris Brown, Will.I.Am, and P.Diddy to top it off. People have always been curious as to why this whole thing happened?  Well, blame it on  Swizz Beatz.  According to reports, Universal Music Group  is upset with Swizzy's decision to feature their artists promoting the file-sharing tool.
Swizz Beatz has Sean "Diddy" Combs, Kanye West and Will.i.am in hot water with their label by getting them to promote his site, MegaUpload. The CEO of the Internet company, Beatz — also a recording artist, producer and DJ — persuaded the stars to appear in a "Mega Song" video promoting his service, intended to send large media files. The catch is the music industry has been fighting against file sharing, accusing the services MegaUpload offers of supporting piracy.
…But after the starry promo appeared on YouTube last month, Diddy, Kanye and Will.i.am's label, Universal Music Group, issued a "take-down notice" to YouTube, saying the artists' performances were unauthorized. Their individual reps followed up, sources say. Mega-Upload fired back with a lawsuit against Universal to stop it from blocking distribution of the video. A Mega rep told us: "We have never received any word that any artist has [individually] filed a take-down . . . [we have] legally binding agreements with the performers that appear in the video . . . They promised that they had the rights to enter into that agreement and it's not interfering with any third-party rights." –NY Post
Clearly this comes at a bad time for the music icon as the founders of the company have all been arrested and are facing extradition to the United States on a host of federal violations. In what authorities have called one of the largest criminal copyright cases ever brought, the Justice Department and the F.B.I. have seized the Web site Megaupload and charged seven people connected with it with running an international enterprise based on Internet piracy. Megaupload, one of the most popular so-called locker services on the Internet, allowed users to transfer large files like movies and music anonymously. Media companies have long accused it of abetting copyright infringement on a vast scale. In a grand jury indictment, Megaupload is accused of causing $500 million in damages to copyright owners and of making $175 million by selling ads and premium subscriptions.
Despite the fact that Megaupload was put in the government's crosshairs last week, Swizz Beatz is still interested in pursuing a CEO position at the company. A source tells MTV News that Swizzy was in negotiations to take on an executive position once the legal issues clear up, and while they prematurely pulled the trigger by adding his name to the staff list last week, he's not turning his back on the opportunity.
"He's not walking away from this," the source told MTV News. The tipster also confirmed that Megaupload put his name on its site before it shut down before any deal could be executed. "They put that up prematurely."
Follow us on Twitter @HipHopEnqMag
Comments
comments
Category: Crime Stories, Latest Hip Hop News