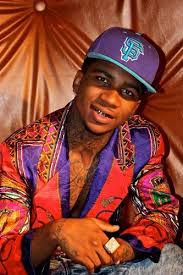 Lil B aka The Based God as he goes by, has the entire NBA shook. If you have not been following the NBA playoffs then you are missing one of the most intriguing story lines off the court. Houston Rockets superstar James Harden was 'cursed' by Lil B for stealing his cooking dance. The result was the Rockets were eliminated and in the last game Harden shot an abysmal 2-11 and had a playoff record in turnovers with 13.
Well you know fans can be irrational and after seeing James Harden crumble since the apparent curse they have asked their teams to follow Lil B on Twitter to warn off any curses to their team. What seemed as a silly Twitter trend became real as the official handles for NBA franchises began to follow Lil B and asked to be in his good graces.
@LILBTHEBASEDGOD you're still a Dubs fan though, right Lil B?

— Golden St. Warriors (@warriors) May 29, 2015
Shouts out to the NBA Phoenix @Suns for the follow – Lil B

— Lil B From The Pack (@LILBTHEBASEDGOD) May 29, 2015
Dear @LILBTHEBASEDGOD: We're not like the others. Please show mercy and spare us #THEBASEDGODSCURSE. Sincerely, The Hawks

— Thanks For Believing (@ATLHawks) May 22, 2015
Lil B even warned the Clevland Cavaliers after their win over the Hawks as they did the cooking dance in celebration. But cavs guard Iman Shumpert quickly took to clear up any issues as he did not want any problems.
. @LILBTHEBASEDGOD Preciate the swag killa 🏾. I cooks I chef all love

— Iman Shumpert I (@I_Am_Iman) May 27, 2015
While there clearly is no basis for what happened to James Harden, people are just superstitious enough to not take that chance. It is interesting to note that Kevin Durant was the first to be cursed by Lil B and since then, he has lost the NBA Finals and been injury plagued by his foot. At this point it is just wise to give all cooking credit to the based god.
Follow us on twitter@hiphopenquirer
Comments
comments
Category: Latest Hip Hop News, Sports