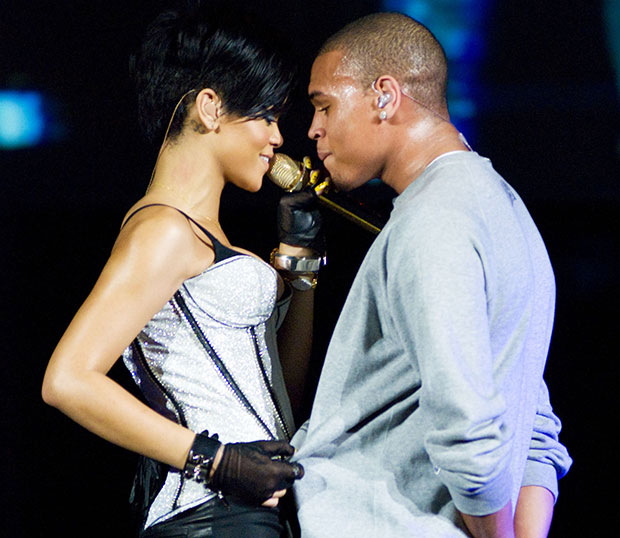 Throughout music history, high profile couples placed in front of the public's eye have seemed to be the most toxic which involves issues that seem to have played out in the media.
Let's see, there was Sean Combs and Jennifer Lopez, Nas and Kelis, Usher Raymond and Tameka Foster-Raymond and even Lil Kim and Ray-J (Well, maybe not).  Anyways, you get the point.
Now, this time, we have a more "open" report of the biggest "romance" in entertainment  between Chris Brown and Rihanna.
[kkytv id="tg00YEETFzg"]
[kkytv id="HBxt_v0WF6Y"]
[kkytv id="nmjdaBaZe8Y"]
The couple were caught this past Saturday night, hugged up with expressions of "freedom" on their faces, at the Qubeey Launch Party. Neither of the two "cupid" struck stars have admitted being "officially" an item yet, but Chris Brown released a statement just weeks ago that may suggest that the two are more than just casual friends. In addition, celebrity blogger Sandrarose.com reported that her sources believe that Rihanna is in fact pregnant with the singer's child.
The fact that Brown abprutly ended his relationship with model Karauche Tran due to his desire to build his relationship with Rihanna doesn't require you to be a love doctor to know that there is more in the fire than just coal.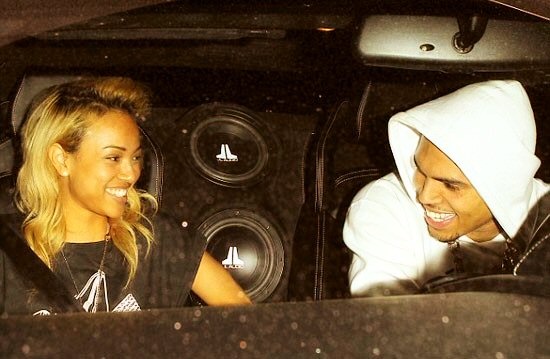 This past Friday, Rihanna took her bold rebel attitude to twitter to taunt and tease Tran about who was number one in Chris Brown's book. Rihanna tweeted "If you start feeling like a 'chore' to someone, you probably are!"

Chris Brown remains on probation for assaulting Rihanna, but cannot seem to keep his distance from the stylish pop star. Both have been spotted in the past few months, in the same clubs, same parties, just gives the public "couple eye candy", because neither one of the celebrities have admitted to being officially involved.
Brown has been seen leaving Rihanna's hotel room, the same week they attended Jay Z's concert at the Barclay Center together.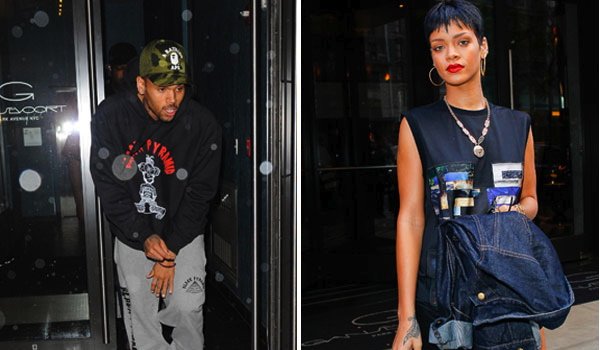 What does this mean? Only time will tell. Life and Style made reports that Rihanna's smile and her good moods recently may mean that she and Chris Brown are ready to exchange vows.
Huge leap? Possibly so. Most think, due to such a detailed statement Chris Brown released a few weeks ago about his breakup with Tran, he and Rihanna are "together."
Here is what Brown said "I don't want to see her hurt over my friendship with Rihanna. I have decided to be single to focus on my career. I love Karrueche very much but I don't want to see her hurt over my friendship with Rihanna. I'd rather be single allowing us to both be happy in our lives." I don't know about anyone else, but this sounds like the singing actress and fashion junkie has stolen Chris's heart indefinitely.
Even, rap mogul and label boss, Jay-Z, took it out of his busy schedule to have a few "meaningful" words with Chris Brown about this "Chrihanna Saga". After telling Rihanna "If Chris truly makes you happy – go for it," Jay-Z allegedly pulled Chris Brown to the side for his own personal briefing – or should I say warning? He told Chris that if he hurts Rihanna, physically or emotionally, it's over for him. He ensured Brown that it would result in the ending of his career. Whoa, scary, but hey, love calls for "fear" tactics. Anyway, check out the exclusive video of Rihanna and Chris hugged up – poolside – at the Quebeey Launch party Saturday night.
So, when will the two talented music craved artists give the public eye the middle finger and just be comfortably in love? Hopefully soon! Stay tuned to more updates on the "Chrihanna Saga".
Hip Hop Enquirer Magazine | Follow us on @hiphopenquirer
Comments
comments
Category: Latest Hip Hop News, Talk of the Town