Nov 28, 2013; Baltimore, MD, USA; Pittsburgh Steelers head coach Mike Tomlin watches from the sideline against the Baltimore Ravens on Thanksgiving at M&T Bank Stadium. Mandatory Credit: Mitch Stringer-USA TODAY Sports
The Pittsburgh Steelers have joined the wave of protests throughout the NFL after President Donald Trump's NFL-related comments.  The Steelers will not be on the field for the playing of the national anthem before their game against the Bears this Sunday at 1 pm EST on.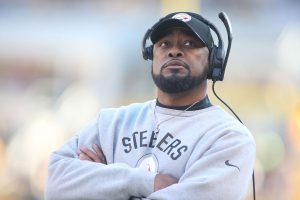 Coach Mike Tomlin told CBS his team would remain in the locker room for the playing of the Star-Spangled Banner.
"These are very divisive times for our country," Tomlin said. "For us, as a football team, it's about us remaining solid. We are not gonna be divided by anything said by anyone. That's the thing that I posted to our guys. I said, 'If you feel the need to do anything, I'm going to be supportive of that. As Americans, you have that right.' But whatever we do, we're gonna do 100 percent, we're gonna do together. We're not gonna let divisive times or divisive individuals affect our agenda. This collection of men, we're chasing something here in 2017, and we're not gonna play politics with football players, with football coaches.
"We're not participating in the anthem today. Not to be disrespectful to the anthem, to remove ourselves from the circumstance. People shouldn't have to choose. If a guy wants to go about his normal business and participate in the anthem, he shouldn't be forced to choose sides. If a guy feels the need to do something, he shouldn't be separated from his teammate who chooses not to. So we're not participating today. That's our decision. We're gonna be 100 percent. We came here to play a football game. That's our intentions, and we're gonna play and play to win."
Several Steelers leaders, including defensive end Cameron Heyward, linebacker James Harrison and others, were involved in the discussion about Sunday's protest, one team source said. Those discussions took hold Saturday as the team traveled to Chicago and got situated at the team hotel.
The decision was collaborative and the team wanted to show unity without being demonstrative.
Comments
comments
Category: Breaking News, Latest Hip Hop News, Sports, Talk of the Town