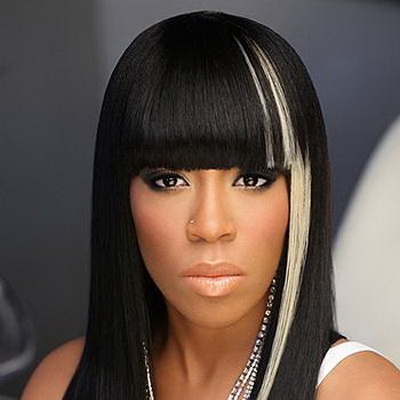 In life some people feel a sense of entitlement when they have not even earned the respect of their peers or garnered enough credibility to call any shots. Apparently Love And Hip Hop Star K. Michelle has rubbed one of her peers the wrong way at a recent scheduled performance at a venue in the Tampa area. K. Michelle was scheduled to perform on the same ticket along with Atlantic Records recording artist Musiq Soulchild and veteran crooner Lyfe Jennings.
Proper protocol dictates that the least recognizable artist on a performance bill usually starts first followed by the next hottest act whose body of work commands them to proceed the less popular act. Apparently K. Michelle was not aware of this process which is music 101 for any artist planning on performing at live shows along with other acts.
According to credible sources, Michelle didn't feel she should perform before singer Life Jennings and as a result she didn't get to perform at all.
Here is what is being reported on Necolebitchie.com:
I am angry at Kimberly Michelle Pate (K Michelle). She was scheduled to perform in my hometown Tampa, Florida along with Musiq Soulchild and Lyfe Jennings. In the promoters (Vybenation) contract she was to perform before Lyfe, but in her mind she felt as though she's a "BIGGER" artist than him. So she threw a Diana Ross diva tantrum. Not only did she NOT perform and let her fans down, she blocked literally half of Tampa on twitter. K also said that she only perform for sold out shows.  She went on to say that the promoters didn't do they're job, which isn't true. She got paid $5000. Now my city is yelling #WHOISKMICHELLE.
Once Lyfe Jennings learned what happened he took to his twitter and tweeted:
"This @kmichelle is so funny. She don't wanna go on before me???? Before Lyfe??? It's cool I wish u the best love… We kilt it!!!"
"Shout out to @musicsoulchild for being a hell of a performer AND a hell of a individual…i'm a fan of the real…period."
K. Michelle also tweeted:
"I've never missed a show a day in my life. I would never stand my fans up period. I was told no by the promoters, he didn't like my request."
So lets try to make sense of this. K. Michelle doesn't perform for fans in Tampa, because she doesn't like where she was placed in the show? She can't go on stage to perform before Lyfe Jennings?? She makes a request to have her placement changed, gets denied, and then doesn't perform at all? Hmm I guess being a VH1 reality star can really turn you into a diva.
Check out this video of K.Michelle and her College friend Royce Reed from Basketball Wives, as they walk into the venue K. Michelle was set to perform in.
Spotted at Necolebitchie.com and Rashaentertainment.com
Hip-Hop Enquirer Magazine | Follow us on twitter @hiphopenquirer
Comments
comments
Category: Latest Hip Hop News, Media Gallery