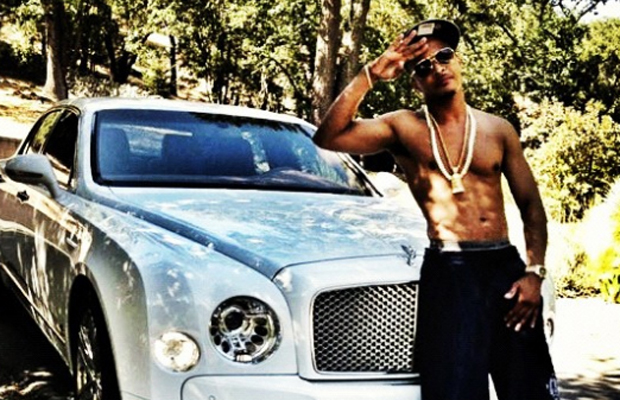 What responsibility do celebrities have to the youth? It has always been a loaded question, especially when you get to talking about music. Even more so when you discuss rap music. Because many of the contributors to the genre come from less than desirable backgrounds, there tends to be lyrics about drugs, guns and violence.
The endgame for many rappers that come from this environment is to ultimately get not only themselves out the struggle but their family as well. Only a select few make it out that environment through rap music and even fewer maintain sustained success from rap as well.
Clifford 'T.I.' Harris is one of those very select few. Not only has he been able to get out the hood and become one of the biggest entertainers today,  he done it all by showcasing his family along the way,for the most part. One has to question why T.I. would promote at this stage in his career, music and rappers that many consider basic and violent?
T.I. came up and help popularize trap music, we all know his background is authentic. There is a clear hypocrisy in place however. All money is not good money, and it seems T.I. was able to figure that out when he distanced himself from the negative publicity rod that is Iggy Azalea. Yet, he it finds it okay, enough at least, to still promote gun culture in hip hop.
Hip Hop is not synonymous with gun culture and never has been. Can you find a plethora of rappers talking about shooting a liquor store up? Of course you can, but when making a rap song never has it been a necessity to rap about such. What separated T.I.and even Young Jeezy for that matter was how they operated. There was a clear sense of the surroundings they rapped about was not okay and their music grew and reflected not only those conditions but suggestions of how to get out.
So for T.I. who would not let any of his children dare shoot a video in the manner Shad Da God has is wrong. Portraying an image is one discussion for another time, the clear embracing of the gun culture is another, because then you are blending those lines that help paint stereotypes of the culture, and that directly affects minorities.
All this is not to say that hip hop needs to be clean-cut, as there clearly is a market and honestly a need for street records. If you are going to make a street record and promote it to the youth then there is an added responsibility to have at least a disclaimer. T.I. appears to be having an identity crisis, wanting to grow up and be responsible to a new generation while being viewed as 'hip' or 'hood'.
The reason T.I. gets the most heat for this is because he has presented a persona that is far removed from the life of a dope dealer and tells his kids that is not the lifestyle to live. He then turns around and promotes a video snippet of one of his acts wielding an automatic weapon saying it is for the 'whole team'. That is where your liability lays and why you are more responsible for what you portray. You can not have your cake and eat it too, while there are many fathers who take care of their children and wives, not too many shoot videos in the hood.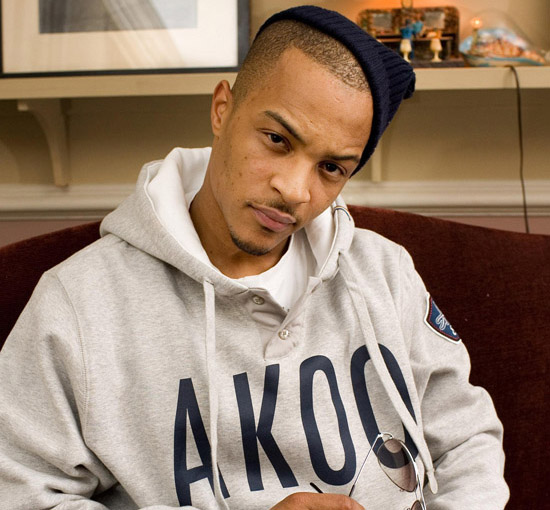 Those who took offense to the King of the south supporting this type of rap were pretty harsh and the comments on @troubleman31 were quite blistering:
galens78 @troubleman31

 Would you want your kids hanging out with dudes like this?? Then why are you promoting this BS because kids WATCH you more than they LISTEN. You promoting this is endorsing it like it's okay, so what's to stop any kids who LOOK UP TO YOU from wanting damn 'choppers for their whole team' rather than staying the hell out of jail or NOT killing each other in the streets? This is foolish BS.
bigkat_the_captain @troubleman31

 You obviously don't really read or care about these comments at all. But Ima just say on some real talk man… I been down since You and Beanie Man did one of ya first records….had your bacc in every beef on file you been in and thought you was one of if not the only real street guys wit understanding in this fake ass industry of yours. Listening to every record you put out I seen growth as a man in hip hop and became probably one of the only artists I felt could break this stupid "follower" cycle….show this new generation even the "Originator of Trap Musik" can break away and show something else then this. Especially in the days and times these kids living in…. A lot of them was raised on you and follow ya moves. But this post and promoting artists like this rich guy move. Zero care or concern how this message directs the youth and completely deficient of any talent. I can't imagine why you wouldn't be able to see what promoting kids shooting guns does. I'm from the trap myself. I been out there hardbody too….. Luckily, when my pops and my big bros came home from doing bids they told me all I needed to know about jail and it turned me around. With respect Patna these kids don't need this message at all. We need our cultures biggest influences to stop this "sell at any costs" mentality. Even tho the wealthy people that pay you use this strategy to get money…. Blacc folks dying everyday to keep up wit a message you WOULD NEVER ALLOW Messiah, King, Major or Domani to follow. I believe your still one of the realest artists out here but this is and was a SALESMAN move and you just slapped the ole' "TI – HUSTLEGANG" imprint/ co-sign on it and let the chips fall where they may. You better then this and so is your reputation as a grown man in Hip Hop. This is a set bacc to what I felt you stand for cause these ain't grown men handling they bizness in the streets….. These teenage kids choosing to be street guys before they know about anything else. One opinion of a true Tip Harris fan. I know it don't mean shxt from my seat and I don't never talk outta turn my G but it is what it is 

@troubleman31
One thing is for sure, if you are not part of the solution, you are clearly a part of the problem. #BlackLivesDoMatter
Follow us on twitter@hiphopenquirer
Comments
comments
Category: Feature, Latest Hip Hop News