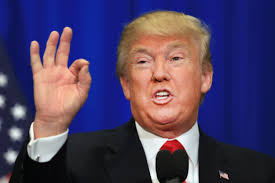 President Donald Trump has crossed the line once again, by referring to a group of nations (that included El Salvador, African countries, and Haiti), as "s–thole countries."  During a meeting with a bipartisan group of senators Thursday at the White House.
Trump's comments were first reported by the Washington Post, the comments came as senators huddled in the Oval Office with the president to discuss the path forward on an immigration deal. Trump questioned why the United States would want people from nations such as Haiti, while being briefed on changes to the visa lottery system.
Trump then suggested that the United States should instead bring more people from countries like Norway, whose prime minister he met with on Wednesday. The president, according to a White House official, also suggested he would be open to more immigrants from Asian countries because they help the United States economically.
In addition, the president singled out Haiti, telling lawmakers that immigrants from that country must be left out of any deal, these people said.
"Why do we need more Haitians?" Trump said, according to people familiar with the meeting. "Take them out."  "The U.S. should have more people from places like Norway."
Comments
comments
Category: Feature, Latest Hip Hop News, Legal, Politics, Special, Talk of the Town