Danielle Bregoli, nowadays popularly known as the "Cash Me Ousside girl", celebrates her birthday today and took to Twitter yesterday to show her excitement.
The now 14-year-old originally rose to fame after an episode of Dr. Phil aired in September of 2016 focusing on Bregoli's and her mother, Barbara Ann's shaky relationship. The newest internet sensation caused quite the uproar after threatening some of the Dr. Phil studio audience members with the recently coined phrase "cash me outsside how bow dah". Shortly after, she is seen getting up out of her chair, aggressively walking towards her mother, and prompting a tussle as well. Dr. Phil eventually orders the preteen to "sit down".
Check out a clip of the infamous episode out below:
Since then, she has appeared in music videos, started endorsing common products such as Fit Tea and Postmates via Instagram, and gained a following along with offers from several production companies. The middle schooler is also said to be raking in $40,000 big ones for an appearance at Miami's Rolling Loud music festival this upcoming May. According to TMZ, she has already landed a supposed deal with a "major production company" for a new series.
Danielle Bregoli shared her enthusiasm for the good news yesterday when her and her mother went out to eat for her birthday celebrations. "Cash" the picture below: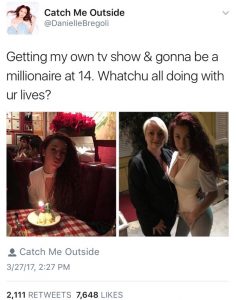 Her caption that accompanied the two Twitter pictures caught the attention of many and immediately sparked a series of replies, quotes, and etc. Here are some of them: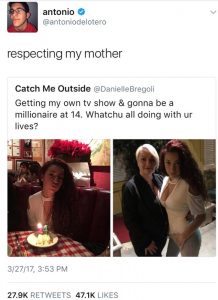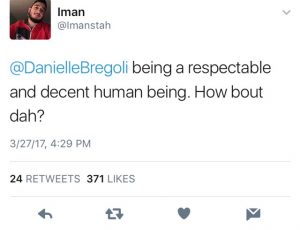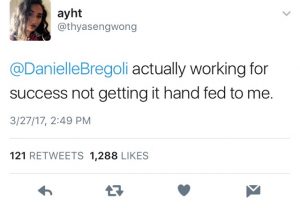 Feel free to stay updated with Danielle on Snapchat and Instagram @BhadBhabie and on Twitter @TheBhadBhabie
Source: In Touch Weekly
Comments
comments
Category: Feature, Talk of the Town, Videos