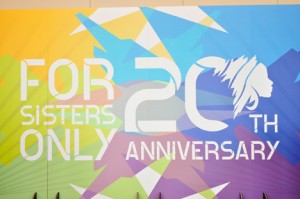 Hip Hop Enquirer was in the house as V-103/WAOK celebrated the 20th anniversary of For Sisters Only during a reception held at the World Congress Center in Atlanta, Georgia Thursday evening.
V-103 morning-drive time team Frank and Wanda were the hosts and playfully teased one another throughout the night with Frank saying that after having been (on-air) together for 13 years, most people think he and Wanda are married. Well, he did give her his glass of wine to hold while he was speaking and she appeared happy to oblige.
Representatives from event sponsors spoke including National Urban League Sr. VP of Marketing Communications, Rhonda Spears Bell, and United Negro College Fund Regional Development Director, Sam Burston.
Bell spoke of the many initiatives the National Urban League is involved in and will be bringing to For Sisters Only including foreclosure avoidance and career assistance. She said the event will include a career fair, "so bring your resume and if you don't have one don't worry because we can create one for you right on the spot."
Burston cited his longtime relationship with both the UNCF and the For Sisters Only event. He also said that V-103/WAOK have partnered with UNCF to give thousands of dollars to college students needing money to graduate.
Although the finger food was nothing to write home about, An Affair To Remember from Jonesboro created a beautiful "candy bar" which included an ice sculpture and loads of goodies like grape gum balls, sour apple licorice and blueberry cotton candy.
The crème de la crème was Frank introducing surprise guest Johnny Gill who will perform at this year's For Sisters Only. Gill said he was excited to be performing at For Sisters Only again since it has been over 10 years since his last appearance. During Frank's introduction of Gill, he mentioned how nice of a guy he is citing a time when Stacy Lattisaw was in the V-103 studio for an interview and they called Gill at 5:30 in the morning California time…and he was a good sport about it. Frank called him an artist of great character. I know sometimes in the celebrity world compliments flow like one big 60's love fest, but I honestly believe what Frank said about Johnny Gill may be true. I took a picture with him and got a really good vibe from him; he seemed genuinely friendly.
For Sisters Only will take place September 17 & 18, 2011. Keep reading Hip Hop Enquirer for more event information including concert performers, dates and times.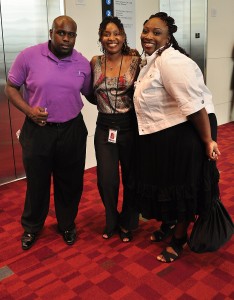 Fred FreddyO Anderson, Hip Hop Enquirer's Sylvia Burley & Wanda Smith
Photos by: Chris McMachen
Hip Hop Enquirer Magazine | Follow us @HipHopEnquirer
DISCLAIMER:
Any comments that may be found here at www.hiphopenquirer.com are the express opinions and or the property of the individual author. Therefore, the publisher of this site cannot be held responsible for the fact that the minds of the respected authors may just well be as dysfunctional as his own. Besides, it is not his practice to edit any comments left here by others. Should you, the reader, identify any such content as harmful, malicious, insensitive, or unnecessary, please contact him via email at dennisbyron@hiphopenquirer.com and he will investigate the problem.
We welcome your feedback as well, so please feel free to enter your comments on our articles. We won't get mad at anything you say because we live by the motto that opinions are like issues and egos…. Everybody has one!
Comments
comments
Category: Latest Hip Hop News, Special