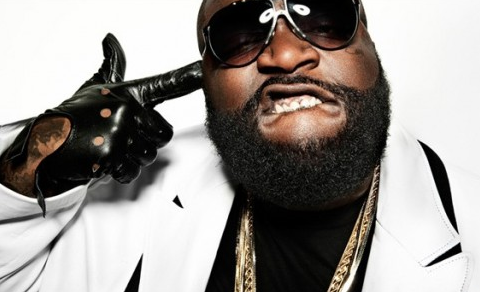 Rapper Ricky Rosay has been receiving death threats across the nation in recent weeks and last night news reports surfaced that the bawse was once again plagued by similiar threats and as a result had to cancel his Charlotte, NC appearance. We recently reported that the artist hired  special security to provide protection.
Well, according to Maybach Music Group's frontman, the concert promoters were the ones who pulled out, not him.
Even though the "Diced Pineapples" originator wouldn't specify any reasons for the "pull out", this is what he tweeted:
Now, the entire hip hop community is in an uproar about the latest death threat aimed at Ricky Rozay, which surfaced online yesterday.
Many are uneasy in his inner circle about the latest death threats, which surfaced online yesterday.
According to the Charlotte Observer, Rick Ross was scheduled to appear Friday in Greensboro and Saturday at the Bojangles Coliseum. Ross's label mates and workers Wale and Meek Mill were scheduled to be there as well.
Charlotte Observer reported that the N.C. chapter of the Gangster Disciples, who have beef with Rick Ross, just sent out an alarming video threat. Charlotte-Mecklenburg Police released their statement Wednesday before the cancellation, stating that officers would remain vigilant to ensure safety. A friend of Rick Ross's, Deon Cole, released a statement to the Charlotte Observer stating that he didn't believe fans had anything to worry about. He mentions that the Disciples are just upset about mentioning the founder of their street game in a song. Also, they're mad that he uses the Star of David, to promote himself. The same symbol is used by the gang.
Just last month Ross pulled out of and Arizona show. Hopefully this legendary rapper will remain safe under such threatening conditions. At the end of the day, doing whatever it takes to ensure his safety as well as fans, is more important than a show. We can all agree with that.
Hip Hop Enquirer Magazine | Follow us @hiphopenquirer
Comments
comments
Category: Latest Hip Hop News, Media Gallery