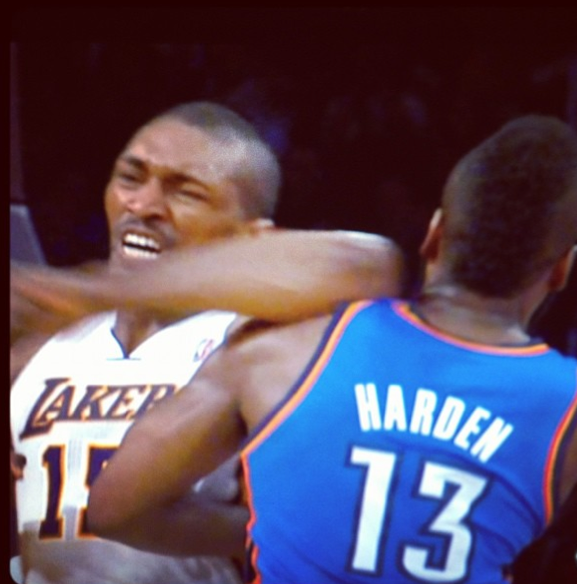 In the second quarter of the game pitting the Oklahoma City Thunder against the Los Angeles Lakers, Meta World Peace delivered a thunderous cheap elbow into the ear of James Harden, sending Harden to the court in obvious pain. After replays of the incident, the officials concluded that the elbow was a cheap shot and they ejected him from the game.
As the announcers on television showed the replay over and over, proving that the elbow was not the accident that World Peace pretended that it was, the fans booed the decision. Then, as World Peace left the floor, the Los Angeles' fans cheered him. It was a disgusting move and a disgusting reaction to a cheap shot.
As Kevin Durant left the floor to head into the halftime break, he said the elbow was not a basketball play and it was hard to watch. He then said, as expected, that the Thunder will just hope Harden is okay and come back out to play their game. World Peace will obviously receive a suspension from the NBA and that will stretch into the NBA playoffs, hurting the Lakers.
Even Los Angeles Lakers' legend Magic Johnson called it a cheap shot during the halftime show.
What is sad about this move is that the man formerly known as Ron Artest had come a long way from the thug reputation he built over much of his career. After elbowing Harden, Serge Ibaka went over to have words with World Peace and the Lakers' star ducked into a fighting pose as Ibaka approached him.
The entire situation reminds me of the Indiana Pacers and Detroit Pistons brawl from 2004. In that game, with less than a minute remaining, Artest lost his temper and jumped into the stands attacking a fan. The entire brawl ended with his suspension for the rest of the season.
This was nowhere near as horrible as that situation but the fact remains that Meta World Peace has come so far, rehabilitating himself and seeking professional help for that temper. Now, with the swinging of a cheap shot elbow, World Peace has not only reminded people of his former reputation but he also has hurt the Lakers heading into the postseason.
This Los Angeles Lakers team is not the same one that has been successful in the past. With some of the players rebelling against new head coach Mike Brown, Andrew Bynum acting out against his entire team and now this incident with Meta World Peace, one has to wonder what happened to the once respected Los Angeles Lakers.
Author Shawn S. Lealos has a bachelor's degree in journalism from the University of Oklahoma (2000) and is an avid sports fan that has lived in Oklahoma for over 40 years. He used to religiously follow the Dallas Mavericks until Oklahoma City found a team to call their own. How long should Ron Artest be suspended from the game? Was this an act of sportsmanship?

Source: CBSSports
Comments
comments
Category: Latest Hip Hop News, Media Gallery, Talk of the Town