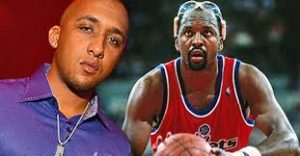 Remember an incident a year and a half ago, at the V-Live Gentleman's Club in Houston, Texas when Moses Malone Jr, son of NBA legend and royalty, Moses Malone, was assaulted and robbed? Well, the first person to be sentenced in the criminal proceedings of the crime has been sentenced to 35 years behind bars and we are all wondering will James Harden be next?
⠀⠀⠀⠀⠀⠀⠀⠀⠀⠀⠀⠀⠀⠀⠀⠀⠀⠀⠀⠀⠀⠀⠀⠀⠀⠀⠀⠀⠀⠀⠀⠀⠀
The assault and robbery was an alleged order from Houston Rockets' frontman, James Harden. Malone Jr. believed Harden set the attack up after he called Harden out on social media about charging inner city youth for a basketball camp. Since then, Malone Jr. has filed a civil suit against the Rockets star.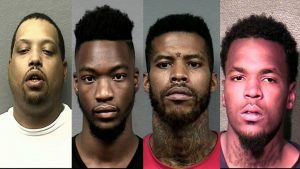 ⠀⠀⠀⠀⠀⠀⠀⠀⠀⠀⠀⠀⠀⠀⠀⠀⠀⠀⠀⠀⠀⠀⠀⠀⠀⠀⠀⠀⠀⠀⠀⠀⠀
While the civil suit works its way through the judicial system, the criminal case against Darian Blount, the alleged ringleader of Malone Jr's assault, took place on December 4th.  The judge convicted Blount for allegedly orchestrating the armed robbery and beating of Malone, to 35 years behind bars.
⠀⠀⠀⠀⠀⠀⠀⠀⠀⠀⠀⠀⠀⠀⠀⠀⠀⠀⠀⠀⠀⠀⠀⠀⠀⠀⠀⠀⠀⠀⠀⠀⠀
As the criminal proceedings continue, the plot thickens. "It has come to light that James Harden paid Blount approximately $20,000 to put a hit on Moses." Harden's attorney, Rusty Hardin, maintains those allegations are false.
According to Texas law regarding culpability, all persons involved in a crime whether directly or indirectly will face the same penalties.
⠀⠀⠀⠀⠀⠀⠀⠀⠀⠀⠀⠀⠀⠀⠀⠀⠀⠀⠀⠀⠀⠀⠀⠀⠀⠀⠀⠀⠀⠀⠀⠀⠀
The next defendant that will stand trial is Oscar Wattel.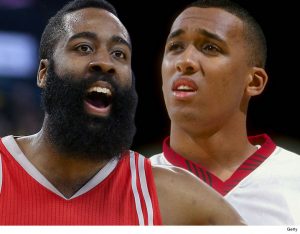 ⠀⠀⠀⠀⠀⠀⠀⠀⠀⠀⠀⠀⠀⠀⠀⠀⠀⠀⠀⠀⠀⠀⠀⠀⠀⠀⠀⠀⠀⠀
Comments
comments
Category: Archives, Breaking News, Crime Stories, Latest Hip Hop News, Legal, Special, Talk of the Town