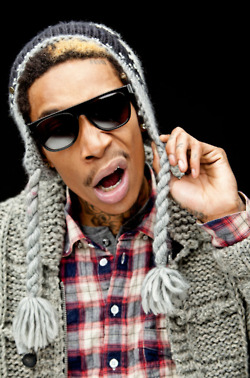 If you're anything like us, then you were probably really excited to see Pittsburgh-bred rapper, Wiz Khalifa making it in the mainstream. The only problem was that once he left the lane of indie, not-so-known rappers and released his first major album Rolling Papers, that "Kush & OJ" sound that we had grown to love Wiz for was out the door. Just yesterday the rapper took to his Tumblr page to pen a letter to his fans about why he switched his style up, and what we could look forward to on his upcoming album O.N.I.F.C.
Im high as fuck and don't even know to start this so ima just say thank you to everyone who's supported the TAYLOR GANG movement and showed love up to this point. We've all grown so much since i first came onto the scene and most of all inspired a whole new generation of muh fuggas who aren't afraid to be themselves and unite. Before there were Taylors, the game was lacking fun, unity, positivity, and love for one another. Shit, your favorite rappers weren't even getting paid well. You guys changed that, and the game shld forever be in debt to you. I remember getting 500 dollars for a show to fly out and see kids who had no idea what a wiz khalifa was, and you crazy muh fuggas showed up. Had a great time, and spread the word. Its ya'lls spirit who revived the rap game and brought back the true art to this shit. Your demand for live shows made it possible for a lot of rappers to come from nothing and feed their families. Promoters too, more kids are managers, dj's videographers. Shit everyones eating. Thanx to you Taylors!!!! Take credit for that shit. Lol

Moving forward we gotta take that positivity with us. Theres tons of different crews now which is so inspiring because people are finding their own voice and unique lane. As Taylor Gang WE FUCK WIT EVERYBODY. We aren't afraid to say we're fans of other artists and bump their music, go to their shows and promote them to the top. Showing equal love. Thass Taylor'd. Dnt let anyone ruin your spirit or make you feel uncomfortable about what you like. What we say goes. Not them. Thass what started this whole thing regardless of what people think. Sayin fuck them and doin what makes us feel free. Dnt let anyone take ur view on things and twist it against you. Dnt let em make you feel like you weren't the first.
Check out Wiz's entire letter to all the Taylors out there on his Tumblr page.
Follow us on Twitter: @HipHopEnqMag
Comments
comments
Category: Latest Hip Hop News