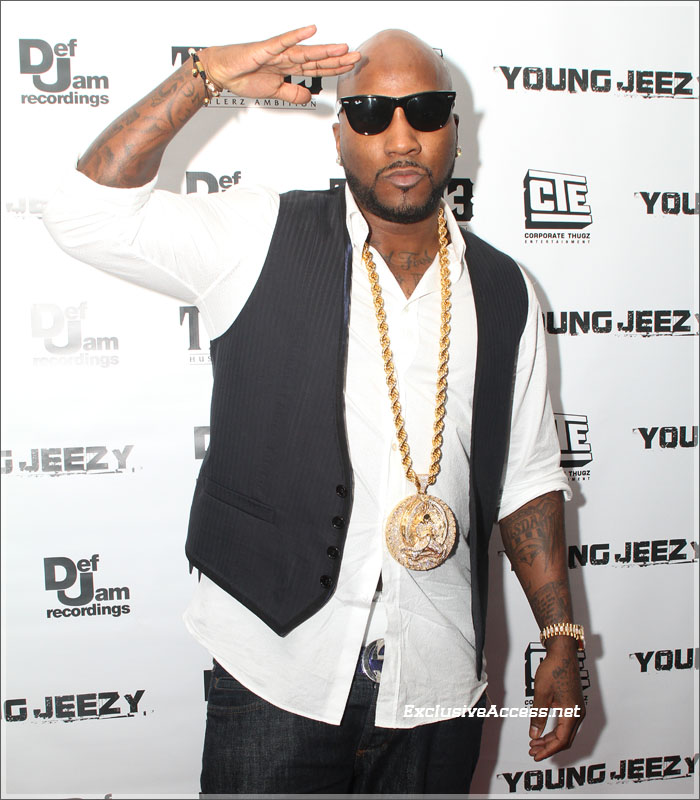 The wait is almost over and Young Jeezy knows it. The Atlanta native held a private screening in his hometown at the Landmark Midtown Art Cinema for his biographical film TM 103: The Documentary.  With only two screens open, the cinema was a who's who of  industry heads, press, producers and artists alike.  The film, which comes with the album on December 20th, touched graphically on his troubled life, its relation to his music, and his music's effect on modern day culture.  Narrated by Samuel L. Jackson,  Jeezy's life is documented from his earliest beginnings  to where he is today. Although the film was comical at times, the confessions from his family stood out from the rest. You could feel the theater tense up during the footage revealing his harsh relationship with his mother, who sat next to him throughout the entire film.  Once Jeezy dug into his habit of dealing drugs at age 11, the film took a more intriguing route. From then on, every rumor or well known issue in Jeezy's life was illustrated with interviews explaining who, what, when, where and why. Jay-Z, Diddy, Rihanna, and T.I. are interviewed on specific topics on each point in Jeezy's career.
Unlike your typical "Behind The Music" documentaries TM 103 is raw, inspiring, and emotional. The theater reflected the emotions of the film on a number of occasions. During footage of Jeezy's early days taking over the mixtape game, the entire theater was bobbing heads and reciting ad libs as if it was 2002 all over again. Then things got silent when Jeezy revealed a unimaginable secret,  putting his beef with Gucci Mane into perspective. Nothing was left out, from his ties with Big Meech & The Black Mafia Family to his music's effect on everyday people .  In sum, Jeezy comes off as an intelligent man who has had a plan since day one. Jeezy's main ideas and views were subtitled to make sure the viewer could understand his thought process "I would be walking home, and just look up at the sky and just ask God, 'Please help me . Help me come up, stay up, and never come down.'" Despite his troubled life Jeezy always had a positive outlook on every situation. That outlook and a optimistic mindset got him where he is today.
I spoke with a few industry associates of Jeezy's after the show for thoughts on the film.
Chubby Baby (Artist) – "You already know that he's a street dude so I relate to it, but after I watched that film  I understand where HE comes from as a artist"
Bamby (Lipstick Gang)– "I thought it was very inspiring as an artist, you learned a lot that you didn't know about Jeezy. I'm definitely buying the album!"
 Kawan "KP" Prather – " I feel like I learned something I really wanted to know about Jeezy. It seems like the records make a lot more sense, when you listen to someone who talks about the content he does you recognize some truth in it. But when you see it, it becomes  that much different. He has a all white house on some Prince s**** but on some hood s*** at the same time. It's not a mistake why he uses the process he does, its a intelligence. I'm already a fan but that makes me like it that much more.
Polow Da Don – " I loved that s***! It's like you kick it with this dude a few times but you never know why he acts the way he acts. That movie really showed who Jeezy was, I'm glad he did it.  Music needed that. 
Follow us on Twitter: @HipHopEnqMag
Comments
comments
Category: Latest Hip Hop News, Movie Review, Special