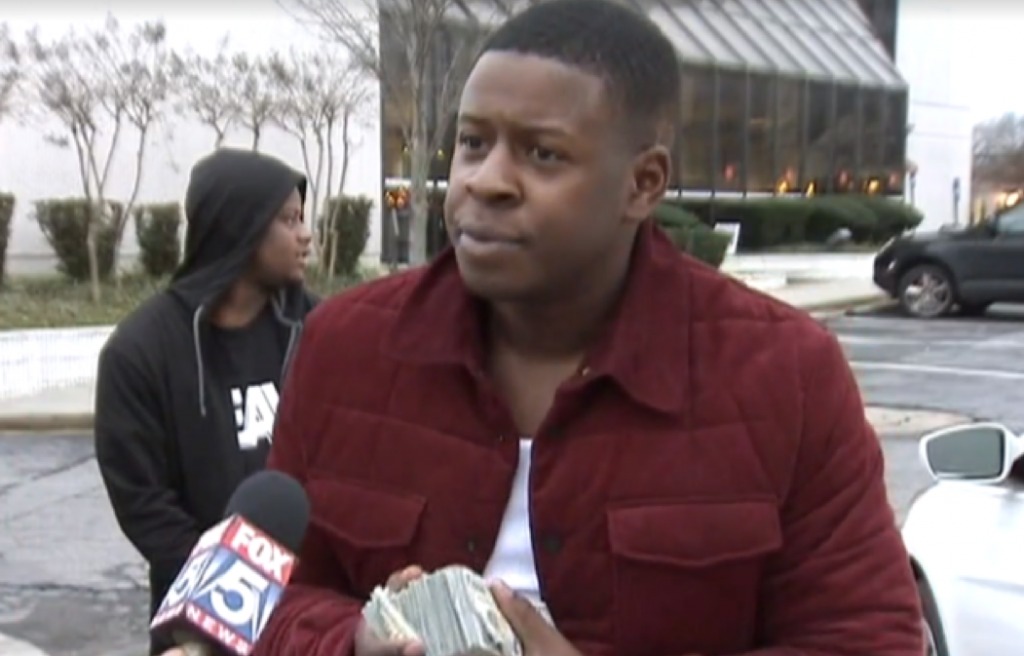 Story reported by Dennis Byron & Shunte Dennis
UPDATE: We have reached out to Atlanta Police Department about Sam Benson aka Blac Youngsta's claim that they confiscated 100k of his cash but eventually returned it to him. During his brief detainment, police stated that he had in his possession approximately 70k but no money was ever taken from him.We also spoke with a Wells Fargo banking source that stated that the rapper doesn't even have an account at that bank. Was this all a publicity stunt?
Official statement from Atlanta Police Department:
As we have stated a lot of the comments in the media are not accurate. The Atlanta Police Department's encounter with Mr. Benson was very brief. The officers on the scene did not take custody of any of Mr. Benson's currency.  I have included the media release related to this incident.

Greetings Media Outlets,

On January 8, 2016, Atlanta Police Officers were dispatched to the Wells Fargo Bank, 3235 Peachtree Road, Atlanta, Georgia. The 911 caller stated that a male was trying to cash a forged check valued at $24,000 . The description of the male provided to police was limited and conflicting.

The Video Integration Center (VIC) using the camera system were able to get a visual of a possible suspect inside a car in the parking lot of the bank. This information was relayed to officers on the scene.  The car was stopped and everyone inside the car was briefly detained. It was quickly discovered that the person providing the description to police had provided the wrong description of the suspect. It was determined that the occupants of the vehicle were not involved.  They were immediately released.

The caller identified Mr. Charles Darnell Edward (03/02/1976) as the male attempting to cash the fraudulent $24,000 CHECK.  Mr. Edwards was arrested at the scene and charged with forgery in the first degree (felony).

The Rapper, who identified himself as "Blac Youngsta", by coincidence happened to be at the bank at the same time. Upon police officers arriving on scene, they made a brief detention of him until a positive identification by the caller was made. This incident did not directly involved Blac Youngsta, nor was he accused of committing a crime.

Sergeant Warren Pickard
Atlanta Police Department
Official Statement from Wells Fargo Bank:
Mr. Benson is not an account holder with us. He did not enter our store nor did he make any withdrawals.
We reached out to Blac Youngsta's management and publicist for comment however neither had anything to offer to the story.
---
Memphis rapper Blac Youngsta whose real name is Sam Benson was wrongly detained by Atlanta police because he was an alleged suspect in a fraudulent check-deposit scheme. According to Atlanta Police Department, the rapper along with several other people were arrested outside the Wells Fargo Buckhead-Piedmont Atlanta location last week after a $200,000 withdrawal was made from his own bank account.
Authorities were already on the lookout for an individual who earlier tried to cash a forged check of $24,000 fitting the alleged description of Youngsta (a black male).
Blac Youngsta, known for his 2014 single "Heavy," is signed tp Yo Gotti's CMG label which the artist received a $200K bonus from Gotti upon signing to the label in mid-2015.
Atlanta police Sgt. Warren Pickard stated in an official press release that police were given a wrong description of the suspect leading to the brief detainment of the rapper and eight other members of his entourage.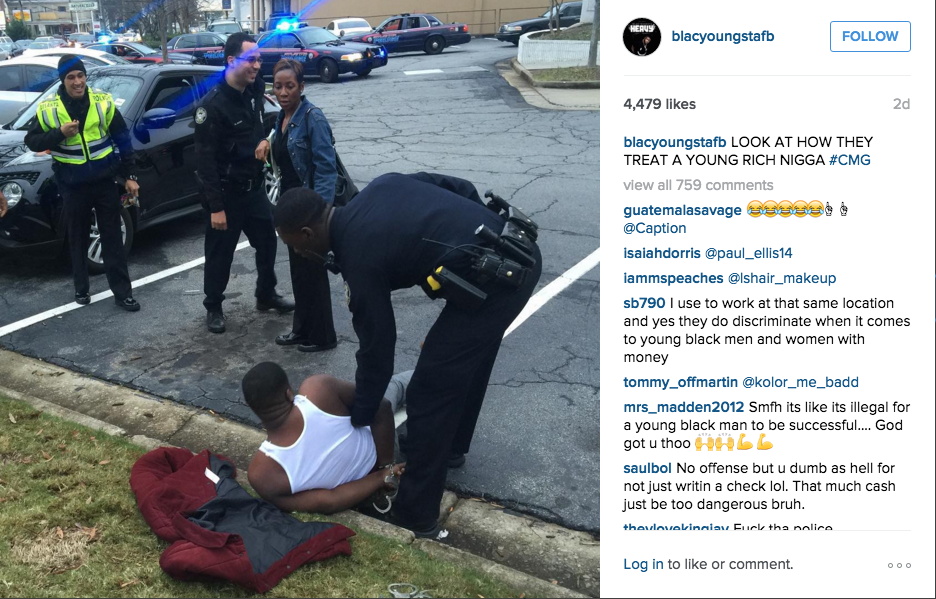 "It makes me feel like I can't be young, black, and rich," Youngsta told Vibe. Pickard reported that Charles Darnell has been arrested for the crime after Youngsta was set free.
Sources have also confirmed that Youngsta is still waiting to receive half of the money that authorities had kept from the $200k withdrawal. If there was a mistake in identity, why did Atlanta police confiscate 100k of the rapper's money and not the entire thing? Was this all a ruse? Do they usually confiscate funds of an individual doing legitimate banking business?  We have reached out to the Atlanta Police Department to get answers to these questions.
Stay updated via @HipHipEnquirer on Twitter
Comments
comments
Category: Crime Stories, Latest Hip Hop News