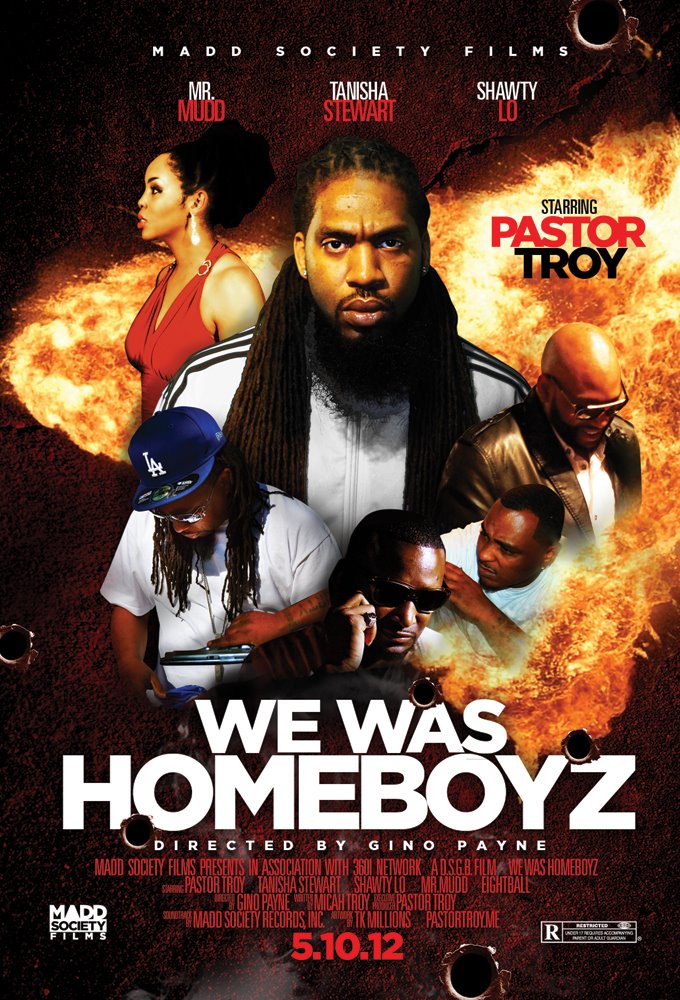 "The names have been changed to protect the guilty." That was the tagline for Pastor Troy's film, We Was Homeboyz that premiered Thursday at the Rialto Center for the Arts in Atlanta. The Gino Payne directed film featured Pastor Troy, Mr. Mudd, Tanisha Stewart, and Shawty Lo in lead character roles.
The premise of the film surrounds Ice (Pastor Troy) and Nature (Mr. Mudd) and their quest to get money and make it on the streets of Atlanta. There was a third friend, Drew, but he was murdered and this causes a stir in the streets. Everyone claims to not know who killed Drew or why, but it was actually his two "homeboyz" Ice and Nature that did him in.The movie follows the two main characters from the time of Drew's death (for whom they vow revenge) to the death of another homeboy. Pastor Troy's character, Ice, slowly develops during the course of the movie when he receives life changing news from his girlfriend Dynesha (Tanisha Stewart).
[kkytv id="Ri128AWeREI"]
The movie is equal parts violence, sexually explicit material, and laughs. It also follows the classic story of betrayal between friends over money and power. The movie explores what happens when things don't go as planned and how anyone can turn their back on you.
After the screening there was a brief meeting with Pastor Troy where he answered questions regarding the movie.
HHE: Where did the idea for the movie come from?

Pastor Troy: S**t. I'm still figuring that out now! I just started writing one day.
HHE: How did you feel when you were shooting?
PT: Shooting was cool. It was fun there was a lot of ad-libbing and everyone did their own thing.
Is acting something you'd like to pursue more?
PT: Oh definitely. This is just the beginning. There's more to come and I'm ready to crank it up.
HHE: How was working with Gino Payne?
PT: Gino, he's my boy. He is really good to work with and he's cool. He''s good at what he does.
HHE: What type of obstacles did you face while filming?
PT: I don't believe in obstacles. Everything that happened was apart of the route… apart of the journey. Everything was a hill or valley.
Before the show began, everyone was gathering in lobby of the Rialto making conversation. There was a red carpet section for people to take photographs and an excellent four piece band that kept everyone entertained. In the VIP section upstairs contained a buffet style table of various foods, a bar, and even a table full of candy. Upon Pastor Troy's arrival he first spent time on the lower level talking to people and posing for pictures. When he made his way to the VIP, he stopped to speak to everyone in the section and just checked to make sure everyone was having a good time. He was in good spirits excited for the premier and taking in the attention that was on him for the time being. After the show, he posed for more pictures with fans on the red carpet. The entire cast was mingling and very friendly and talkative to everyone who was present.
This seems to be just the beginning of an interesting part of Pastor Troy's career. As the movie came to a shocking closing, I am reminded of the words of actor Al Pacino, "You can get further with a kind word and a gun than you can with just a kind word." Not too many kind words made their way in this movie. Congrats to one of Atlanta's hometown favorites.
Pastor Troy's next album will be dropping this summer so be on the lookout.
Follow us on twitter@hiphopenqmag
Comments
comments
Category: Latest Hip Hop News, Media Gallery, Movie Review, Movies